Your Guide To James Cameron's Many Avatar Lawsuits, And Which Might Actually Work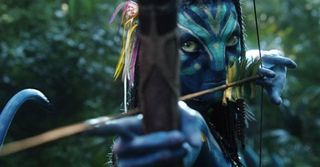 Yes, the effects were spectacular. Absolutely, the use of 3D was groundbreaking. But the story was familiar. Really familiar. When Avatar hit theaters, many scoffed that they'd seen the movie the first time, when it was called Dances With Wolves, FernGully: The Last Rainforest, and/or Pocahontas. But there were screenwriters out there who claim they recognized the story from something closer to home. And so one by one, they have sued Avatar's writer-director James Cameron.
Of all these plagiarism suits, the one that has gained the most momentum is that of screenwriter Bryant Moore, who insists Cameron's Avatar is an amalgamation of two of his own screenplays titled Aquatica and Descendants: The Pollination. Moore has filed suit against Cameron, Lightstorm Entertainment and Twentieth Century Fox Film Corporation over copyright claims, seeking a hefty $2.5 billion in damages-- and today, a judge has allowed at least part of his suit to go forward.
According to Moore, he submitted his screenplays to Cameron's Lightstorm Entertainment in 1993 and 1994, and later that got word the company did not accept his submissions via production assistants. He has since found what he calls "striking substantial similarities" in 2009's Avatar. Cameron has stated he already had much of Avatar planned in a detailed scriptment before Moore submitted his materials. (This contradicts a statement made by Fox regarding another case, but we'll get there.)
Part of Moore's 2011 suit, a breach of implied contract, has been dismissed. But because federal Judge Roger W. Titus did not dismiss Moore's copyright claims, the case will proceed to a jury, leaving the both sides the next four to six months to build their case, and bring in expert witnesses to compare the screenplays. Likely to be included in Cameron's evidence will be the 45-page sworn declaration he created to detail how he conceptualized Avatar, which was used successfully in a previous plagiarism lawsuit. (Read it in full here.)
The sheer number of copyright claims over this one property is sort of insane. The first filed was from a Canadian restaurant owner who claimed Avatar was a rip-off of his 1998-copyrighted screenplay Terra Incognita, which he sent to Lightstorm Entertainment back in 2002. Its plot centers on an indigenous tribe with tails and braided hair that lives around a tree that houses their collective memories. Their way of life is threatened when a human military forces invade looking for precious minerals. He claims there are 45 total elements in common between the two properties, and is seeking $100 million in damages. But if he wins his case he'll get a share in the profits of its in-development sequels. As of March of last year, he was still pursuing this lawsuit.
Then there was Eric Ryder, a former employee of Cameron's Lightstorm Entertainment who claimed Avatar's concept was snatched from a story he'd written. According to Ryder, the story titled K.R.Z. 2068 was in development at Lightstorm until 2002, when it was determined the concept of a "environmentally-themed 3D epic about a corporation's colonization and plundering of a distant moon's lush and wondrous natural setting" would not have wide commericial appeal. A Los Angeles court ruled in January of this year that Cameron must hand over drafts of the Avatar screenplay to Ryder for his case. For his part, Cameron insists on his innocence and says he has never met or communicated with Ryder.
The first accusation to crumble was that of Chinese author Zhou Shaomou, who declared Avatar was based on his novel The Legend of the Blue Crow. At the time, a representative from 20th Century Fox stated that Cameron had devised the storyline for Avatar back in 1995, way before Shaomou's novel was published in 1997. But note this would be after the time Moore claimed Cameron had access to his scripts.
Also dismissed was the suit of Elijah Schkeiban, who said the movie was based on his novel Bats and Butterflies, and its adapted screenplay. There Judge Manuel Real described Schkeiban's book as "a children's story with a simple protagonist," and Avatar as "a more complex story about a conflicted protagonist," adding the two were "not substantially similar" to each other. So, he dismissed the suit with a firm ruling that bars Schkeiban from amending his complaint and attempting to sue again.
Finally there was the curious case of Gerald Morawski. This fellow claimed he'd pitched the concept of Avatar to James Cameron back in 1991, which was notably before Fox claims Cameron had a story plotted, and before Bryant's scripts reached Lightstorm Entertainment. Cameron admitted having met with Morawski. He admitted he lent him $5,000 for different project. But after providing the aforementioned 45-page documentation on his creation of Avatar, this case too was dismissed.
Cameron still has a lot of legal battles ahead. We'll give you more on this story as it develops.
Your Daily Blend of Entertainment News
Staff writer at CinemaBlend.