Zach Braff's Wish I Was Here Adds Anna Kendrick And Comes Under Fire Again For Its Financing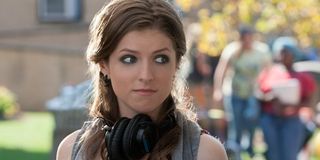 Think of it this way: if Zach Braff had gone about making his latest movie in the usual way, none of us would probably be talking about it right now. But after a successful Kickstarter campaign, then the arrangement of financing that seemed to violate the whole spirit of the thing, Braff is at the center of a mini firestorm about modern ways of financing movies-- and as much as it might suck for him right now, it's getting his movie Wish I Was Here more attention than it ever would have had otherwise.
So now we've got two updates on the project that everybody has an opinion on before it even exists. First up, The Wrap reports that Anna Kendrick has joined the cast of the film, which also added Josh Gad and Mandy Patinkin yesterday. On the other hand, there's this fascinating piece at Flavorwire that breaks down the jargony language of Hollywood film financing and explains why the deal Braff struck with Worldview Entertainment really does violate the spirit of the Kickstarter campaign, no matter what Braff says. Here's one key paragraph:
It's really, really hard to be an outsider sorting through this situation, but this is one of the rare situations in which an outsider really is entitled to do so-- people who put up money for Braff's film have the right to know where the money is coming from and where their own money is going, and adding in a traditional financier only makes that way more complicated. The Veronica Mars Kickstarter was a little strange because Warner Bros. owned the rights to the show, and would be a major studio profiting off a film that was financed by other people who earned no such profits. But Braff's project is a whole other can of worms, and one that's only getting messier the closer the film comes to being a reality. As open as Braff has been in this whole process, and as eager as he is to defend himself, I imagine his next explanation will be coming any minute now.
Staff Writer at CinemaBlend
Your Daily Blend of Entertainment News
Thank you for signing up to CinemaBlend. You will receive a verification email shortly.
There was a problem. Please refresh the page and try again.