Zoolander 2 Hilariously Spoils One Of Its Celebrity Cameos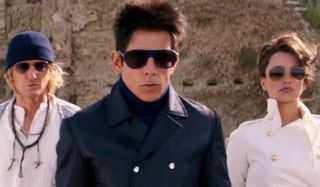 Zoolander 2 is going to feature plenty of cameos. The first trailer for the comedy already proved that. But while Justin Bieber, Joe Jonas, and Benedict Cumberbatch's appearances have already been confirmed, we've been left to speculate over who else is going to pop up. In fact, Zoolander 2 is packed with so many celebrity cameos that Ben Stiller and his team don't have a problem ruining one of them ahead of its impending release. Just click on the video below to learn who'll be joining Stiller, Owen Wilson, Penelope Cruz and pals in the sequel.
While Katy Perry doesn't technically confirm her presence in Zoolander 2 in the above video, it's rather obvious from the fact that she captioned it with, "FASHUN WILL HAPPEN 2.12.16," that she's going to appear in some capacity. It also helps that the "California Gurls" singer previously confirmed last July that she'd shot a "little cameo in a movie" in Rome, which is exactly where and when Zoolander 2 was filming.
At the time, Katy Perry refused to go into specifics about her role. However, since she took a break from her huge Prismatic Tour to shoot her scenes it's safe to say that, while it may be brief, she's not just going to just pop up in the background. Will it match her stunning exploits as Smurfette in The Smurfs and The Smurfs 2? Well, we'll just have to wait and see. But, obviously, it's highly unlikely.
Those of you that have seen Zoolander will know that Frankie Goes To Hollywood's "Relax" was the track used by Will Ferrell's Jacobim Mugatu and Milla Jovovich's Katinka Ingabogovinanana to brainwash the titular model into assassinating the Prime Minister of Malaysia. Need help remembering? Then check out the clip below.
Zoolander 2 will see Derek and Owen Wilson's Hansel McDonald working together to try and find out why the world's most beautiful musical celebrities are being assassinated, who's behind it, and why they keep dying with Derek's legendary Blue Steel look on their faces. The trailers for Zoolander 2 have suggested that it should match the original's quality. We only have a few weeks left to see if that's the case, because Zoolander 2 is being released on February 12, 2016.
Your Daily Blend of Entertainment News