Zoolander 2 International Trailer Squeezes A Lot Of Jokes Out Of Penelope Cruz's Breasts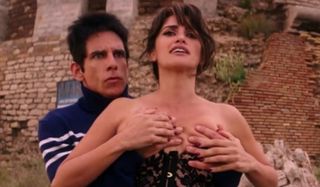 I was somewhat surprised by just how funny the first full-length trailer for Zoolander 2 actually was. Sure, the 2001 original is a constantly amusing, uproariously dumb, and energetic comedy that helped to pave the way for Will Ferrell and his buddies to take over Hollywood's comedy scene. But after 14 years there was always going to be a concern that the follow-up could feel forced and unfunny. The international trailer for Zoolander 2 helps to quiet these concerns even more, while at the same time making quite a few jokes about Penelope Cruz's breasts.
This still looks pretty damn great to me. In fact, I counted at least five occasions when I found myself both nodding and chortling along to Zoolander 2's gags and quips. For a trailer that's a pretty high amount. For me at least. The sequence of Owen Wilson throwing a remote control, bottle of beer, and then tequila at Ben Stiller's bearded face makes me grin every time I see it. While the topper of Wilson charging with the television towards Stiller even forced me to audibly giggle.
While we always expected Owen Wilson and Ben Stiller to pick up their infectious camaraderie and patter as male models Derek Zoolander and Hansel McDonald exactly where Zoolander left off, it's great to see that Penelope Cruz will have no problem mixing with the duo as the Interpol agent/former swimsuit model Valentina.
Unfortunately for her character, she had to start working with the police after her breasts hindered her progress wearing swimsuits. And as you'd expect, Ben Stiller, who is also directing Zoolander 2 -- having co-written the script with Justin Theroux, Nicholas Stoller, and John Hamburg -- doesn't miss the chance for a gratuitous shot of Cruz's cleavage. I counted at least three in the trailer alone that were aimed to include her chest.
The plot for Zoolander 2 sees the now retired Derek and Hansel working for Interpol to try and figure out why the world's most beautiful people are being assassinated. By the beginning of the film the likes of Devi Lovato, Lenny Kravitz, Kendall Jenner, Usher, and Justin Bieber have been killed in their prime. With their last dying breaths and facial movements they've recreated Derek Zoolander's iconic "Blue Steel" look on their faces, which is why investigators have hired the loveable buffoons.
With Stiller, Wilson, and Cruz leading the way, and support coming in the shape of Kristen Wiig and Will Ferrell, as well as countless superb cameos already confirmed – including the returning Billy Zane – Zoolander 2 is shaping up quite nicely. We'll see if it manages to match this early promise when it's released into cinemas on February 12, 2016.
Your Daily Blend of Entertainment News