Why Mads Mikkelsen Doesn't View His Doctor Strange Character As A Villain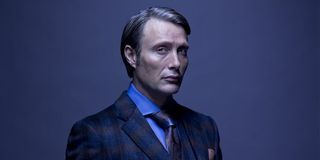 As it the case with any superhero origin story, when Benedict Cumberbatch's Stephen Strange delves into the world of magic later this year in Doctor Strange, it won't be smooth sailing. He'll soon have to face off against a mystical adversary being played Hannibal star Mads Mikkelsen. Marvel has yet to identify who this individual is, but from the brief shots of him in the first teaser trailer, it's clear he's powerful. While it stands to reason this mysterious man won't let Strange or anyone else get in the way of accomplishing his goals, Mikkelsen doesn't look at his character as your standard evildoer.
While clearly stating that his Doctor Strange character should definitely be looked at as an antagonist, Mikkelsen also explained to Yahoo why this person's goals are noble in their own way. The actor said:
When Mads Mikkelsen was first rumored to be joining Doctor Strange, many fans speculated he would play Dormammu, ruler of the Dark Dimension and one of Doctor Strange's oldest enemies. It was later revealed that Mikkelsen's character is a sorcerer who breaks off to form his own sect separate from The Ancient One. In his eyes, the long-lived magic instructor has been "protecting her own power base" and believes the world would be better off if they allowed certain things from other realms through. As longtime MCU fans know, this isn't the first time a Marvel villain has done what they claim is right or beneficial to the world at large, but their way of going about it inevitably leads to innocents getting hurt. We can presumably add this guy as the latest entry to that list.
Despite Mads Mikkelsen's helpful elaboration, there's still a lot we don't know about about his Doctor Strange character. The only shots of him in the teaser trailer were from afar, but we saw him warping reality with ease as his followers watched, so clearly he has amassed incredible power. Set photos also revealed that there's some demonic-looking weirdness going on around his eyes. If I had to guess, I'd say the dark magic he's been manipulating is having nasty side effects, which could result in a disfiguring transformation. Whatever plot he's hatching, it would be prudent to keep an eye on him, regardless of his "good intentions."
Doctor Strange will cast its spell in theaters on November 4, and hopefully sometime before then, we'll finally have a name to attach to Mads Mikkelsen's face.
Your Daily Blend of Entertainment News
Connoisseur of Marvel, DC, Star Wars, John Wick, MonsterVerse and Doctor Who lore. He's aware he looks like Harry Potter and Clark Kent.