Roland Emmerich's Blunt Opinion On The Superhero Movie Trend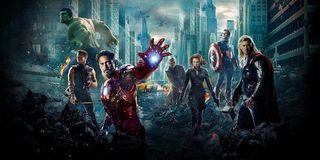 It's no secret that superhero movies are all the rage right now. 10 years ago, fans would be lucky to get just one of these blockbusters a year, but nowadays, there's multiple coming out from several studios, guaranteeing a healthy spread throughout each year. However, despite their popularity, these superpowered stories aren't everyone's cup of tea. One of the detractors of the genre out there is Independence Day director Roland Emmerich, who doesn't understand the appeal it has among the masses.
During an extensive interview with The Guardian, Emmerich expressed his "disdain" with the superhero movie genre, specifically with their costumes, capes, masks, etc. As he put it:
It's pretty clear that Roland Emmerich doesn't care for the flashiness inherent in almost every superhero movie and their protagonists. He prefers to have the everyman at the center of this stories, i.e. the individual who is thrust into a crazy adventure. In contrast, superhero movies place exceptional individuals on a pedestal, whether they've been like that the whole time or were made that way through extraordinary circumstances. That's the nature of the business.
As for the costumes, well, that's just something inherent in most stories from this genre. After all, these heroes need to wear something that either protects their identity or makes them a recognizable symbol when battling the bad guys. Oh sure, the colors can be a bit much at times, but they're part of the charm. Maybe if Emmerich picked up some comic books in Germany when he was a lad, he might have a different opinion, but that's not a guarantee. It's also worth pointing out that if he doesn't like people in capes, he probably doesn't care for stage magicians, either.
While Roland Emmerich is entitled to his opinion regarding superhero movies, they're blockbuster powerhouses that show no sign of stopping anytime soon. In addition to the "Marvel movies," whether they're from the main studio or 20th Century Fox, Warner Bros is also building their own DC Comics cinematic universe. All these entries, combined with other upcoming movies like Power Rangers and The Incredibles 2, mean that the genre is covered plentifully in theaters for the near future. If they aren't your thing, go to Emmerich for the sci-fi and disaster movies, along with the occasional historic tale.
You can catch Roland Emmerich's latest movie, Independence Day: Resurgence, in theaters this Friday, June 24.
Your Daily Blend of Entertainment News
Connoisseur of Marvel, DC, Star Wars, John Wick, MonsterVerse and Doctor Who lore. He's aware he looks like Harry Potter and Clark Kent.