Jason Statham's Mechanic: Resurrection Looks Like The Greatest 1990s Action Movie Of All Time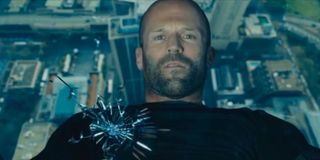 2011's The Mechanic may have been lost somewhere in Jason Statham's endless parade of action movies, but that hasn't stopped a sequel from being made. The trailer for Mechanic: Resurrection has reminded us of one thing, however. Those Jason Statham action movies are fun. This one looks to be a very enjoyable action film with some of our favorite actors along for the ride. Check it out.
If you don't remember The Mechanic all that well, and you'd be forgiven if that's the case, Jason Statham stars as Arthur Bishop. Bishop is a professional assassin who's specialty is taking people out in a way that makes it look like an accident, suicide, or really anything other than a professional hit. In Mechanic: Resurrection, our hero has retired from the life, but is forced back in by people who want him to perform some key assassinations for them. In order to convince him to do the jobs, they've kidnapped his girlfriend, played by Jessica Alba. Not before she has a chance to don a bikini of course, in case you were worried about that.
It's certainly not the most original setup for a movie, but does it matter? We're not here for original concepts. We're here to see Jason Statham beat the crap out of people, and enjoy elaborate assassination set pieces that hopefully involve explosions. We get to meet at least one of these assassination targets in the trailer as well. He's played by Tommy Lee Jones, who looks like...actually, we're not sure what he looks like. He looks ridiculous, but we mean that in the nicest way possible.
The movie theaters used to be packed full of this simple style of action movie but it feels like it's been missing for awhile. In recent years, Jason Statham's career has been focused on being part of the Expendables ensemble, and more recently the Fast & Furious team, so he's had less time to shine on his own in this classic action formula.
We're excited to have Jason Statham back doing what he does best. What do you think? Is Mechanic: Resurrection the action movie you've been waiting for, or is it a formula that's past its prime? Let us know in the comments.
Your Daily Blend of Entertainment News
Content Producer/Theme Park Beat
CinemaBlend's resident theme park junkie and amateur Disney historian. Armchair Imagineer. Epcot Stan. Future Club 33 Member.
Your Daily Blend of Entertainment News
Thank you for signing up to CinemaBlend. You will receive a verification email shortly.
There was a problem. Please refresh the page and try again.