Why Wonder Woman Is So Important, According To Gal Gadot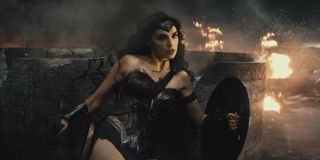 Coming face to face with Gal Gadot gives you a real sense of the statuesque beauty that convinced Warner Bros. to cast her as Wonder Woman in their DC Extended Universe. I was lucky enough to do just that as well as chat with the Israeli actress during a set-visit to Keeping Up With The Joneses in Atlanta, Georgia last April, where not only was it immediately apparent that Gal Gadot would make a sensational Diana Prince, but she also talked about how important the character, as well as the fact she is getting her own film, is.
Discussing how integral it is to her personally that Wonder Woman is being made and released amidst a superhero schedule that's packed to the brim with males, Gal Gadot explained:
My discussion with Gal Gadot actually took place several months before her debut as Wonder Woman in Batman V Superman: Dawn Of Justice, which, upon release, was met with a disappointing response critically, and its $872.7 million box office was even deemed sub-par, too. Warner Bros. will now be hoping that Wonder Woman, which is due out on June 2, 2017, will help to repair some of the damage done to the DC Extended Universe by Batman V Superman's tepid release, while hopefully the impending release of Suicide Squad in August will give it a boosted platform to build upon.
Before Wonder Woman is released into cinemas, though, we'll get to see Gal Gadot's comedic chops in all of their glory, which will be on show in Keeping Up With The Joneses. Gadot stars alongside Jon Hamm, Zach Galifianakis and Isla Fisher in the suburban comedy, the trailer for which debuted just last week, and makes it look pretty damn funny.
We'll get to see for ourselves if Keeping Up With The Joneses is as funny as the above suggests when it's released on October 21, 2016.
Your Daily Blend of Entertainment News