One Unlucky Audience Accidentally Saw The Sausage Party Trailer, Get The Details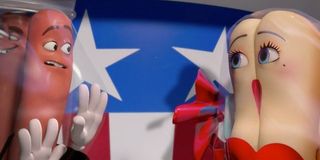 Sausage Party looks to be an unusual and entertaining film, if you're an adult. If you're a small child, it looks like nightmare fuel that will keep you awake for days while you starve yourself. There's a theater's worth of children in Northern CA who have discovered this. They went to see Finding _Dory_, but were accidently shown the trailer for Seth Rogen's newest film about food that discovers what people do to it when it leaves the store.
Finding Dory is the most popular movie in the country right now, having won the box office two weeks in a row. This popularity was apparently part of the problem. According to Bay Area News and Talk, the Brenden Theater in Concord, CA was trying to accommodate some large groups that wanted to see Dory. This meant changing the movies that were scheduled to start in different theaters, a process which, these days, is handled entirely by computer. One errant click by a manager meant that the wrong movie was started in the theater that was supposed to be showing Finding Dory, as well as the trailer package that preceded said wrong movie.
While it's not clear whether the audience waiting to see Finding Dory was treated to the standard, or the red-band, trailer for Sausage Party, it doesn't really matter. Even the green-band version portrays the senseless murder of food by people, complete with potatoes and carrots screaming in pain. I have friends who brought one of their children to his first movie inside a theater to see Finding Dory. I can only imagine what would have happened if the kid has seen this.
The error was caught as soon as the Sausage Party trailer was played, so the audience didn't have to deal with anything else that wasn't meant for them. There's no mention here of particularly irate parents or children who have refused to eat any food ever again, so hopefully this was just an honest mistake that everybody involved has already forgotten. Otherwise, the theater may need to pay some children's psychiatry bills going forward. And possibly for the parents too. We can't even imagine what they were thinking as the Sausage Party trailer played. Was it obvious the wrong movie had begun or were some thinking that Finding Dory was going to be much darker than they thought?
With so many theaters now being run by computers, it's honestly a shock that we don't hear about this sort of thing more often. It's easy enough to click the wrong box and then move on without realizing it. Can you think of a worse trailer/movie mixup? Let us know.
Your Daily Blend of Entertainment News
Content Producer/Theme Park Beat
CinemaBlend's resident theme park junkie and amateur Disney historian. Armchair Imagineer. Epcot Stan. Future Club 33 Member.