The Hilarious Reason Margot Robbie Refused To Diet For The Legend Of Tarzan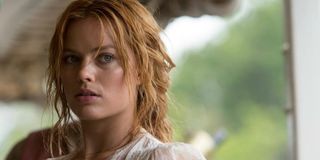 Ever since her stunning debut in The Wolf Of Wall Street back in 2013, Margot Robbie has been on a meteoric rise. Performances in Z For Zachariah, Focus, The Big Short and Whiskey Tango Foxtrot have kept Margot Robbie in the public's attention, but this summer is the zenith of her success. Not only is her tantalizing portrayal as Harley Quinn in Suicide Squad now less than a month away, but she recently popped up as the iconic Jane Porter in The Legend Of Tarzan. However, rather than following in the footsteps of other Hollywood starlets who have been forced to starve for roles, Margot Robbie has heroically revealed that she actually did the polar opposite and ate more so that she could truly appreciate living in London for the first time.
Margot Robbie made this delightful revelation while speaking to Australia's TV Week (via Yahoo Movies UK), admitting that she wouldn't let a little thing like starring in a Hollywood blockbuster stop her from truly experiencing the culinary delights that the Big Smoke has to offer. Robbie explained:
However, just in case The Legend Of Tarzan's producers had a problem with Margot Robbie's decision not to shed pounds for her role, the 26-year-old Australian actress quickly came up with an ingenious excuse for why it would suit her character to be a little bigger.
It's hard to tell whether Margot Robbie's tour of London's pubs actually led to her putting on weight, because, as per usual, she looks pretty tip-top in The Legend Of Tarzan, while, most importantly, it's been widely acknowledged that the rising star is one of the best aspects of the film.
Unfortunately for The Legend Of Tarzan, Margot Robbie's star performance has not been enough to stop the jungle-based blockbuster from proving to be a huge disappointment for Warner Bros. So far it has taken in just $71.8 million across the world, and while it still has at least two dozen more territories to be released in over the next couple of weeks, it has a long way to go to even match its budget, let alone turn a profit.
The poor performance of The Legend Of Tarzan won't come close to denting the public's appreciation of Margot Robbie, though. Critically, the movie only ranks at 34% among critics on Rotten Tomatoes. Fortunately, Robbie has yet another ferociously independent role just weeks away from release, as we'll finally get to see her portrayal of the beloved comic-book anti-hero Harley Quinn in Suicide Squad on August 5.
Your Daily Blend of Entertainment News