The Great, Random Ghostbusters Moment That Rick Moranis Apparently Completely Made Up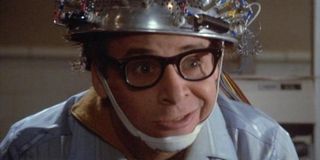 You never really need an excuse to watch Ghostbusters. The 1984 classic is the perfect concoction of humor, special effects, and sci-fi goodness. Obviously, the impending Ghostbusters reboot has led to increased chatter regarding the first film, which means that further unknown tidbits regarding its production have been unearthed. The latest being that Rick Moranis completely improvised one of the funniest scenes of Ghostbusters, which saw Louis Tully revealing the business and tax details of a couple that have just arrived at his party, which the accountant has only invited his clients to so that he could write it off.
Director Ivan Reitman, who returned to oversee the sequel and is also working as a producer on the reboot, made this revelation to Rolling Stone as he recalled the various complicated ins and outs of what it took to bring Ghostbusters to the big screen. While discussing just how talented and funny each of the film's cast members were, Reitman brought up how Rick Moranis helped to alter Louis from the page to the big screen. Reitman explained:
For those of you that can't quite recall the scene in question, don't worry, I've got your back. Because here it is in all of its splendor. Warning: Watching this clip is almost certainly going to make you want to see all of Ghostbusters immediately after. So make sure you have a spare two hours to do so:
Rick Moranis wasn't actually the first choice to play Louis Tully, though. Ivan Reitman originally approached John Candy with the part, having previously worked with him on Stripes. However, John Candy rejected the role, insisting, "I'm not seeing this movie." Reitman then turned to Rick Moranis, who accepted it within the hour and also declared, "I think Candy's an idiot. This is the greatest part."
Obviously, because of Ghostbusters' legacy and the die-hard nature of its fans, it's going to be a tall task for the reboot to match, let alone eclipse the original. However, with Paul Feig directing and the stunning comedic cast of Kristen Wiig, Melissa McCarthy, Kate McKinnon, and Leslie Jones involved, they've got a fighting chance to do just that. We'll be able to see if they can when Ghostbusters is released on July 15.
Your Daily Blend of Entertainment News