Star Trek Beyond Just Screened, Here's What The Critics Are Saying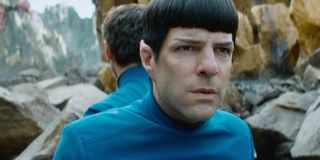 Boldly going where no man has gone before. That's a tall order for the third installment of the rebooted Star Trek continuity, but Justin Lin's upcoming threequel, Star Trek Beyond, seems poised to return the franchise to its former glory following the lackluster response to Star Trek Into Darkness in 2013. Beyond finally screened for critics last night, and the social media reactions have started to flow in. Cinema Blend's very own Eric Eisenberg got the opportunity to see Star Trek Beyond, and his Twitter reaction to the film should be enough to get any Trekkie excited. Check out his take on the film below.
Although Eric's tweet makes it abundantly clear that Star Trek Beyond doesn't reinvent the wheel with its narrative, it's just as clear that there's a ton of fun to be found within the third installment of the rebooted series. It seems that Justin Lin's talents as a director shine through in his ability to balance the primary personalities aboard the Starship Enterprise and put these endlessly loveable characters into downright pulse-pounding situations. This shouldn't come as a huge shock when we consider that he basically did the exact same thing when he revitalized the Fast & Furious franchise with its fifth and sixth installments.
Eric's not even remotely alone in his assessment of the film. The Guardian's Jordan Hoffman similarly took to Twitter to voice his excitement and liken Star Trek Beyond to a faithful, self-contained episode of Gene Roddenberry's original series.
If there's one thing true Trekkies have always complained about when it comes to this new Star Trek continuity, it's the fact that these films have thus far not felt like genuine Star Trek adventures. Hoffman's take seems to indicate that the series has recognized that flaw and set about correcting course in a major way. Echoing that sentiment, IGN's Jim Vejvoda would go on to claim that Star Trek Beyond not only honors the Star Trek Series, but it also wholly improves upon the decidedly low-quality of Star Trek Into Darkness.
One such improvement that Beyond has made to the Star Trek franchise is the fact that it feels like a much stronger ensemble piece than ever before. In fact, John Campea goes so far as to claim that Karl Urban's Bones gets the best moments out of the Enterprise's entire crew.
All that being said, plenty of critics seem a bit more conservative with the praise. Film critic Jeff Cannata took to Twitter to explain that, while Star Trek Beyond is an enjoyable sci-fi romp, it still doesn't feel like it totally captures the spirit of that specific franchise.
Overall it looks like Star Trek Beyond represents a major step in the right direction for the franchise. We will have our official review for the film up once the embargo has been lifted, but these tweets make it clear that you should most certainly go check out the latest Star Trek when it hits theaters on July 22.
Originally from Connecticut, Conner grew up in San Diego and graduated from Chapman University in 2014. He now lives in Los Angeles working in and around the entertainment industry and can mostly be found binging horror movies and chugging coffee.
Your Daily Blend of Entertainment News
Thank you for signing up to CinemaBlend. You will receive a verification email shortly.
There was a problem. Please refresh the page and try again.