Wonder Woman Looks Absolutely Stunning In New Image, Check It Out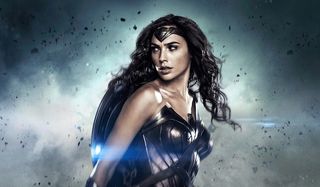 Everyone has already fallen a little bit in love with Gal Gadot's Wonder Woman. Sure, her only appearance has so far been in the maligned Batman V Superman: Dawn Of Justice, but alongside Ben Affleck's Batman, the Israeli actress was roundly lauded as one of best elements of the blockbuster. Ahead of Wonder Woman's own origin story, Warner Bros. have released a brand new poster that highlights the superhero's power, grace, wisdom and wonder, and it looks absolutely sensational.
Remember when some people thought that Gal Gadot wouldn't make a convincing Wonder Woman? Well, following her debut earlier this year in the DC Extended Universe, as well as the release of images like the above, those numbers are beginning to diminish rapidly. Obviously we'll have to wait until the film itself is released in the middle of next summer before we can make our final decision on Gal Gadot's performance and how Wonder Woman measures up against its comic-book rivals, but it's all looking pretty tip-top at the moment.
That will be a relief for Warner Bros. to hear. As you're probably more than aware by now, Batman V Superman: Dawn Of Justice was far from the meteoric success that the studio had hoped it would be. Sure, it ultimately grossed $872.7 million around the world, but its middling reviews didn't provide the DC Extended Universe with the platform that was required for its future slate.
Instead, it's now been left up to Suicide Squad to try and salvage its reputation, which it will try to do when it's released on August 5th. Earlier projections are that, positive reviews withstanding, it should do just that, too, because it's already being touted for an opening weekend haul of around $125 million. Of course, that's in the region of what Batman V Superman took in too, but its numbers soon dropped off because of the tepid response.
After Suicide Squad is released on August 5th, we then basically have an entire year to wait until the next installment to the DC universe, which will come in the form of Wonder Woman on June 2, 2017. Wonder Woman's production itself hasn't been that plain sailing. Having honed her craft on Game Of Thrones and Breaking Bad, Michelle MacLaren was given the task of overseeing the film back in November 2014.
However as its shoot date drew closer MacLaren decided to leave the project, which resulted in Patty Jenkins (Monster) taking over. We still have yet to get our first taste of Wonder Woman action, but with Comic-Con currently taking place in San Diego, there's hope that our wait will be over very soon indeed. For now, that poster has left a very good impression with us thanks to its vibrant colors and the words that highlight what makes Wonder Woman special.
Your Daily Blend of Entertainment News
Thank you for signing up to CinemaBlend. You will receive a verification email shortly.
There was a problem. Please refresh the page and try again.