Comic-Con 2016 Costume Photos: The Best Of Friday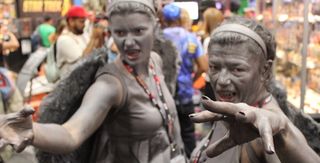 Comic-Con continues to be packed with fans eager to show off their love for their favorite genre projects and characters. Looking at the collection of cosplay photos we collected throughout the day on Friday at Comic-Con in San Diego, there seemed to be an abundance of sci-fi and fantasy fans in the crowd today. While we saw a few Harley Quinns (including one adorably pint-sized Harley), and some other comics characters, there were also some nods to Star Wars, Xena, Mad Max and Game of Thrones. Check it out, and if you missed it, view Thursday's cosplay photos here.
Fair warning, one of these images involves a naked blow-up doll. Not even kidding. It's a bit unsafe for work or kids, so proceed beyond Page 1 with caution!
Your Daily Blend of Entertainment News