Comic-Con 2016 Costume Pictures: The Best Of Thursday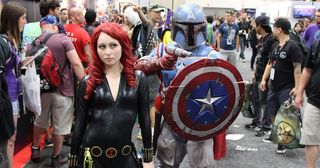 If ever there's an event to let your geek flag fly, it's Comic-Con. The San Diego event is a showcase to many things, including some of the best cosplay you're likely to ever see. One could spend all day wandering through the crowds and appreciating the time, attention and creativity fans have taken to put their look together. Today is Day 1 of SDCC 2016 and we've compiled a pretty sizable collection of fantastic costumes.
Brace yourselves for fantastic portrayals of everyone from Wolverine to Darth Vader to Harley Quinn, Captain Jack Sparrow, Indiana Jones and some excellent mashups (Boba Fettamerica is my personal favorite there...). Also be warned, there are some enemies afoot, including at least one Kylo Ren and a very creepy Pennywise the Clown....
Your Daily Blend of Entertainment News