5 Essential Suicide Squad Stories To Check Out Before The Movie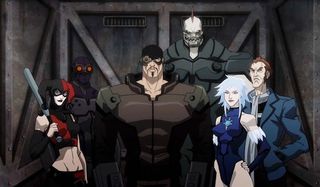 After two movies starring some the biggest heroes in both DC Comics history and pop culture in general, the DC Extended Universe is continuing with Suicide Squad, where bad guys will be the ones saving the world. By now, nearly everyone reading this is familiar with the premise either from previous experience or from the movie's previews and reports. Incarcerated super villains are sent on dangerous missions by the U.S. government. Succeed, and they'll have time cut off their sentences. Fail or be captured, and they'll die. The has been around for a long time in the comics and other media, but this movie marks their chance to shine in front of the biggest audience yet.
There's a couple days left until the Suicide Squad movie is released, but that's still enough time to sneak in extra Suicide Squad material if you're so inclined. Whether you're a longtime comic book fan or just want to learn more about the team, we've gathered the five best stories to look at that exemplify what makes the Squad cool and unique in the DC universe, no matter what continuity.
Suicide Squad Vol. 1 (1987)
Although the Suicide Squad has existed since 1959, but in those early days, it was just a military team that fought monsters. Writer John Ostrander established the modern interpretation of the Suicide Squad, taking inspiration from the 1967 movie The Dirty Dozen. Using Rick Flag Jr. as the connection to the original Squad, Ostrander's run remains the definitive influence for all Suicide Squad material released afterwards. For years, this series was only accessible in back issues or through digital means, but in anticipation of the movie, DC started it in trade paperbacks, the first one titled "Trial by Fire." Most of the main players are the same ones from the movie (with costume differences, obviously), and the now-infamous Squad elements are laid out almost immediately as they go on their first mission to battle the terrorist organization Onslaught. If you like these first issues, three more volumes have been published, and Vol. 5 arrives in December.
Justice League Unlimited
The Justice League Unlimited Season 2 episode "Task Force X" is the most kid friendly way to introduce the Suicide Squad to a newcomer. The term "Suicide Squad" is never actually said due to the younger target audience, but all the same elements are there: prisoners going on dangerous missions, bombs implanted in their body, Amanda Waller overseeing them, etc. This episode was another chapter in the show's ongoing Cadmus arc, and featured Waller and Rick Flag recruiting Deadshot, Plastique, Captain Boomerang and the Clock King to plan a mission to break into Justice League headquarters to retrieve a powerful item. This works well as a standalone story, just as long as you know that Waller is taking steps to ensure that Project Cadmus is ready to battle the Justice League directly in the near future. Oh, and just because this is a cartoon story, don't think there aren't any impactful consequences in the episode.
Batman: Assault on Arkham
The movie may be called Batman: Assault on Arkham, but make no mistake, this is first and foremost a Suicide Squad story. Set in the same universe as the Batman: Arkham video games, the movie followed Amanda Waller's team of bad guys going to Arkham to retrieve a thumb drive containing sensitive information that the Riddler stole. Because of its PG-13 rating, the movie was able to be more intense in an animated setting, including wasting no time demonstrating what happens if one of them crosses Amanda Waller. Assault on Arkham may have also inspired the Suicide Squad movie, as the live action tale also has Batman and Joker involved, albeit in different capacities. You don't need to have played the Batman: Arkham games to understand what's happening. This is simply a captivating Suicide Squad tale that, until this Friday's release, was the only movie to put the team in the spotlight.
Suicide Squad Vol 1 (New 52)
The Suicide Squad maintained a recurring presence in the DC universe after John Ostrander's run ended in 1992, it was when the New 52 in 2011 began that the team regained their high profiles status. Because the DC universe was rebooted following Flashpoint, this is the first Suicide Squad to exist in the current continuity, but most of the familiar elements are intact. The first collection, titled "Kicked in the Teeth," kicks off the team's frequent missions of retrieving high value targets or objects for Amanda Waller. The debut issue is also notable for bringing Harley Quinn (opens in new tab) onto the team for the first time, hence her inclusion in the movie. This series was eventually relaunched as Suicide Squad, and the DC Rebirth line is publishing a newSuicide Squad series starting this week, but if you're looking for modern Squad action, "Kicked in the Teeth" is the best place to go comics-wise.
Arrow
After featuring Deadshot, Bronze Tiger and Shrapnel in separate episodes, Arrow brought the three criminals together in Season 2's aptly named episode "Suicide Squad." While Oliver Queen was dealing with his Deathstroke problems, John Diggle was brought in by Amanda Waller to lead Task Force X with his then-ex-wife, ARGUS operative Lyla Michaels. This episode was one of the more action-packed ones of the seasons, and was the first time many adult viewers had ever. Unfortunately, the Suicide Squad didn't get to stay on Arrow for long. Diggle and Lyla lead Deadshot and new recruit Cupid in Season 3's Suicidal Tendencies," but without spoiling anything, let's just say that those episode's events, along with a particular Season 4 episode, made it so that the Squad's return is extremely unlikely. Nevertheless, "Suicide Squad" captured everything that makes the Suicide Squad special, and if you enjoyed this episode, Arrow's Squad also appeared in the Arrow: Season 2.5 comic book tie-in.
Connoisseur of Marvel, DC, Star Wars, John Wick, MonsterVerse and Doctor Who lore. He's aware he looks like Harry Potter and Clark Kent.
Your Daily Blend of Entertainment News
Thank you for signing up to CinemaBlend. You will receive a verification email shortly.
There was a problem. Please refresh the page and try again.