Watch Suicide Squad Cut Together With The Dirty Dozen In Fun New Video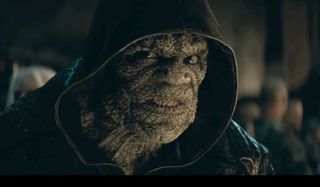 Task Force X is the Dirty Dozen of the DC universe. Unsurprisingly, the two work well together to create the perfect mashup. Watch below as Rick Flagg is tasked with forming a special covert unite comprised of the worst of the worst.
For those unaware, The Dirty Dozen is a 1967 war film from director Robert Aldrich. Taking place during the spring of 1944 just before the Allied forces are preparing the D-Day invasion, the film centers around Major John Reisman (Lee Marvin) as he's tasked with enlisting the aide of 12 men, all of whom are ex-soldier convicts either sentenced to Death Row or locked away for horrendous crimes. Together they are to execute a suicide mission in going behind enemy lines to assault a chateau near Rennes in Brittany.
Sound familiar? That's because DC's Suicide Squad arc is based on this concept. Amanda Waller, the warden of Belle Reve prison which houses the DC universe's most notorious villains, enlists a select lineup of prisoners to exact top secret missions for the government in exchange for reduced jail time. Over the years, the line up has changed, but David Ayer's film sees Deadshot (Will Smith), Captain Boomerang (Jai Courtney), Harley Quinn (Margot Robbie), Killer Croc (Adewale Akkinuoye-Agbaje), Slipknot (Adam Beach), El Diablo (Jay Hernandez), and Katana (Karen Fukuhara). While Enchantress (Cara Delevigne) was also shown posing next to the other members of Task Force X in the official photo lineup, her character hasn't been featured alongside them in the official trailer, which makes us believe there might be some hidden plan for her elsewhere. Flagg (Joel Kinnaman) takes the role of Reisman in this Dirty Dozen mashup, created by Vulture, while Viola Davis portrays Waller.
As for The Dirty Dozen, the lineup of 12 men featured the likes of Vernon Pinkley (Donald Sutherland); Robert Jefferson (Jim Brown), convicted of killing a man in self-defense; Samson Posey (Clint Walker), an easily enraged giant of a man; Joseph Wladislaw (Charles Bronson), a German-speaking coal miner who shot his squad's medic; A.J. Maggot (Telly Savalas), an off-his-rocker misogynist and religious fundamentalist; and Victor Frank (John Cassavetes), an anti-authority former member of the Chicago crime Syndicate. You be the judge as to who's the more vile team. Watch the trailer for the 1967 film below.
Not much is known about the plot of Suicide Squad, other than Waller enlists the task force for a secret mission. Beware of potential spoilers, but a rumor suggests that this mission is to extract Enchantress from the clutches of Lex Luthor, who is planning to use her magical abilities for nefarious purposes. The film recently wrapped principal photography and will be released in theaters on August 5, 2016.
Your Daily Blend of Entertainment News