11 Insane Joker Moments The DC Movies Will Never Show You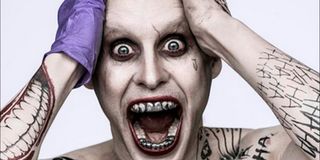 The Clown Prince of Crime. The Harlequin of Hate. The Joker. He's a villain that needs no introduction, and he has easily become one of the most iconic bad guys in any form of media. Over the years, each and every actor who has taken on the character has brought a different and unique take, but he's always maintained a terrifyingly sadistic sensibility. Jared Leto will soon step into the role as the iconic character in Suicide Squad, bringing a wholly new cinematic take on the classic antagonist.
That being said, there are certain places comic books can go that mainstream films simply cannot. We've seen Joker conduct some nasty business on screen over the years, but some of his most heinous comic book crimes will never make it to the silver screen. So, we've compiled a list of the some of the most insane comic book Joker moments of all time -- moments we will almost surely never see in the DC movies. These acts are monstrous, outlandish, or a little bit of both. Now let's get started with one of his most gruesome (and recent) kills...
Skinning A Man From The Neck Down
Do I even have to explain this one? Look at that image and you should pretty much instantly understand. Poor Monty... When Joker gets released from Arkham in Brian Azzarello's Joker, he goes on a total rampage that puts all others to shame. One of his stops takes him to a strip club where Harley Quinn now performs for scores of admirers, and he lures his unsuspecting victim into a backroom. When Monty emerges, he has had all of his skin removed from the neck down, and Joker watches with glee as he stumbles forward and collapses dead on the stage. We're having trouble believing that a moment such as this would even make the cut in an R-rated movie, let alone the PG-13 films that DC has committed to.
Tricking Superman Into Killing Lois Lane (And Metropolis)
Sometimes The Joker simply doesn't want to play with The Dark Knight, and when that happens it becomes important to mix things up. By his own estimation, going after Superman is like going after Batman, only on "easy mode." The critically acclaimed Injustice video game and comic books paint a grim picture of an alternate universe where Joker used a Kryptonite-laced version of Scarecrow's fear gas to trick Superman into killing Lois Lane while hallucinating a fight with Doomsday. As soon as the reporter's heart stops beating, a nuclear bomb detonates in the heart of Metropolis and wipes Superman's home and loved ones from the face of the planet. It's heinous, but even the Injustice storyline kept it to an alternate universe. We don't expect Metropolis to go boom (again) anytime soon on the big screen.
Killing Scores Of Gotham Citizens With Shards Of Glass
It's no secret that most things can easily be turned into weapons when placed in Joker's capable hands, so glass shouldn't surprise anyone. That being said, Joker took it one step further in the Lovers and Madmen story arc. In this particular tale, Joker creates a blimp designed to explode and rain poisonous shards of glass down on Gotham's citizens. He ultimately succeeds, and as a result we get several gruesome panels in which we see The Joker's handiwork as dozens are killed. We've seen Joker murder scores of Gothamites before, but this method is most certainly too gruesome for a PG-13 movie to ever use. Killing crowds of people with glass results in a lot of blood, and that just won't fly in tentpole blockbusters.
"The Pale Man" Origin
The beauty of The Joker is the way in which he has never truly received a definitive origin story. Some tales of his creation have become more accepted than others, but overall nobody can confirm where the Harlequin of Hate really comes from. Scott Snyder's recent take on the matter in Batman: Endgame is one of the absolute creepiest, but it also is one of the more ridiculous. This new origin story for Joker postulates that the character became exposed to a substance called dionysium, which has kept him alive in Gotham for centuries -- long before the arrival of Batman. This particular origin is one of the creepiest Joker stories ever told, and it paints the character as a sort of demonic, devilish figure. That being said, it's inherently crazy, and even Endgame never fully embraced it.
Surviving A Gunshot Wound To The Head
Grant Morrison's run on Batman often played with the idea of Joker as a "super-sane" individual -- a man who can oscillate between several personalities because of an almost supernatural lucidity. That's a ridiculous enough concept that would actually be awesome to see in a Batman movie, but Batman R.I.P. takes Joker one step too far into the realm of ridiculous by having the Clown Prince of Crime survive a gunshot wound to the head. He emerges from the event a changed man (complete with a hole in his head), and his personality once again evolves, resulting in the creation of "The Clown at Midnight". This is simply one of those moments that work well on the page, but it's hard to imagine that mainstream audience would be able to handle it if it ever made the transition to the silver screen.
Returning From The Gave As A Former Robin
Never let anyone tell you that cartoons are simply for children. The Bruce Timm/Paul Dini DC series of the 1990s and 2000s definitively put that notion to bed once and for all. For example, Batman Beyond: Return of the Joker features one of the most intense Joker storylines in recent memory, as it's slowly revealed that the Clown Prince of Crime has used technology to essentially take over former Robin Tim Drake's consciousness from beyond the grave. As the details begin to take shape, the film presents us with a grim flashback sequence of how Joker tortured and broke the third Robin for three weeks - before being killed by Drake when Batman and Batgirl mount a rescue mission. David Ayer has already shot down the notion that Jared Leto's Joker is (or has ever been) a Robin, so the possibility of them using this sort of storyline seems remote.
Titan Joker
Rocksteady's Batman: Arkham Asylum revolutionized superhero gaming. It's an undeniable masterpiece, but it stumbled hard at its conclusion. Despite the fact that the Arkham games have become known for their awesome, intuitive boss battles, the first game in the series resorts to injecting Joker with the Titan serum and becoming a lumbering brute that you have to punch into submission. It's a total let down that never even comes close to matching what came before it, and one could make the argument that it serves as a total disservice to the cerebral psychopath. Joker can be strong, and Joker can physically fight Batman, but Joker has to stay Joker in the process. Titan Joker is generally considered a gaff in the video game series, so it will likely be left in the past and never find its way into the DC Extended Universe.
Cutting Off His Own Face (And Wearing It)
When Scott Snyder and Greg Capullo finally got around to telling a proper Joker story during their run on Batman in The New 52, they not only pulled out all the stops - they pulled off Joker's smile. After having his face surgically removed by The Dollmaker, Joker disappears for a year and returns to Gotham in order to prove to Batman that The Bat Family makes him weaker as a hero. Death of the Family is a sick and twisted story, but the most insane part is the fact that Joker wears his own decomposing face over the exposed, fleshy muscle on his head with little more than a belt and hooks to keep it in place. It's a terrifying image that's more Leatherface than Ledger, and it's probably far too gruesome to ever be done in a PG-13 live-action movie.
Breaking His Own Neck
It's easily one of the most iconic moments in the history of The Dark Knight and The Joker, but it's also one that probably won't make its way to the silver screen anytime soon. Frank Miller's The Dark Knight Returns paints a grim picture of a Joker who has aged incredibly gracefully, and a rougher Batman who no longer wants to play Joker's games. Cornering one another in a tunnel of love, Batman almost loses control and snaps Joker's neck, paralyzing him. Seizing the opportunity, Joker uses his last bit of strength to jerk his body and crack his own neck so that the Gotham public will think that Batman murdered him in cold blood. Bat fans recognize this classic moment instantly, but it's likely far too violent, and far too final to ever make it into a future DCEU Batman movie.
Poisoning A Carnival Full Of Children
Another one from Frank Miller's The Dark Knight Returns. After escaping police custody and murdering the entire audience of the David Endocrine Show, Joker makes his way to a carnival where he begins to hand out cotton candy to a group of boy scouts. Obviously he has something a bit more sinister in mind than simply feeding a bunch of hungry children, and Batman arrives on the scene to find that the Clown Prince of Crime has poisoned the kids, leaving them dead at the scene. It's one of the more terrifyingly dark moments in the history of DC, and it's almost certainly too morbid for the movies to ever properly adapt to the silver screen. There are certain things you just don't do in movies -- particularly comic book movies.
Emperor Joker
It's debatable that this is Joker's ultimate coup de grâce, and it technically takes place in a Superman story, not a Batman story. Emperor Joker sees the evil clown tricking the Last Son of Krypton's enemy Mr. Mxyzptlk into granting him all of the fifth dimension dweller's powers -- essentially turning the clown-themed psycho into an omnipotent god. With the newfound ability to manipulate reality itself, Joker reshapes the entire world in his own image and devotes himself to torturing, tormenting, and killing The Dark Knight every single day - before bringing Gotham's savior back to life and starting the whole process over. While this storyline would most certainly show that DC isn't playing around when it comes to digging into the source material, it would also perhaps be a bit too "comic book" for the average mainstream audience.
Your Daily Blend of Entertainment News
Originally from Connecticut, Conner grew up in San Diego and graduated from Chapman University in 2014. He now lives in Los Angeles working in and around the entertainment industry and can mostly be found binging horror movies and chugging coffee.