Star Wars: Rogue One Is Bringing Back An Unexpected Prequel Character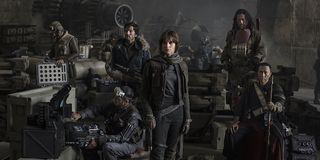 Most of Rogue One: A Star Wars Story's characters are brand new to a galaxy far, far away, but there will be a few familiar faces in the spinoff. Darth Vader will continue to intimidate those around him, and Mon Mothma will be helping lead the Rebel Alliance. Today it was confirmed that a notable character from the Prequel Trilogy will be cameoing, who until recently had not even been rumored to show up in Rogue One: Senator Bail Organa.
During his appearance on The Talk today, actor Jimmy Smits was questioned about a brief moment in the recently-released Rogue One footage from Star Wars Celebration where there's a brief shot of a figure who looks like the actor reprising Bail Organa. Smits wouldn't confirm whether that was him or not, but when pushed by the hosts further, he slyly said:
Well, folks, it does indeed look like after 11 years away from the Star Wars universe, Jimmy Smits is back as Bail Organa for Rogue One. It doesn't sound like we'll be seeing that much of him. His total screen time may only amount to a few minutes tops, but nevertheless, it's good to see him return to the franchise.
Bail Organa was mentioned in A New Hope, but we never got to meet him because he died when Alderaan was destroyed by the Death Star. Smiths debuted as the character in 2002's Attack of the Clones, which took place approximately 22 years before his untimely demise. He was a member of the Republic Senate, and had built a close friendship with Padme Amidala. He, Amidala and other like-minded politicians did their best to keep Chancellor Palpatine from gaining too much power, but with the outbreak of the Clone Wars, this proved difficult. His role was slightly expanded in Revenge of the Sith when he witnessed Order 66 and subsequently helped Obi-Wan Kenobi and Yoda hide from the now-Emperor Palpatine and his forces. When we last saw him, he had taken the baby Leia back to Alderaan to raise with his wife as their adoptive daughter.
While Bail Organa appearing in Rogue One may come as a surprise, it does make sense given the timeline. Despite retaining his position as a Senator in the Empire, Bail helped found the Alliance to Restore the Republic, a.k.a. the Rebel Alliance. Rogue One takes place directly before A New Hope, so that means he's been spending almost 20 years secretly fighting the Empire. The screenshot of him only shows he'll be with Mon Mothma and the other leaders, but it remains to be seen which, if any, of Rogue One's main characters he'll interact with during the story.
Rogue One: A Star Wars Story will be released in theaters on December 16.
Connoisseur of Marvel, DC, Star Wars, John Wick, MonsterVerse and Doctor Who lore. He's aware he looks like Harry Potter and Clark Kent.
Your Daily Blend of Entertainment News
Thank you for signing up to CinemaBlend. You will receive a verification email shortly.
There was a problem. Please refresh the page and try again.