How Star Wars: Rogue One Plans To Use Mon Mothma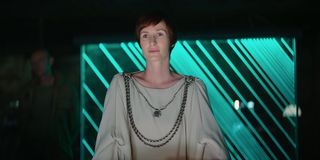 Princess Leia Organa was the only major female character in the original Star Wars trilogy, but the Rebel Alliance wasn't without other women in power. In Return of the Jedi, fans met Mon Mothma, who provided information about how the plans to the second Death Star were secured. Because a younger version of her was cut out of Star Wars Episode III: Revenge of the Sith, Rogue One: A Star Wars Story marks her return to the big screen, and while she only had a few minutes of screen time in Jedi, fans can rest easy knowing her role will be significantly larger this time around, as she's the one keeping the Rebel Alliance in one piece.
Played by Genevieve O'Reilly (who is reprising her role from Revenge of the Sith) Mon Mothma will help keep the various Rebel factions united in Rogue One, and to accomplish that, she'll put together a covert team to retrieve information about the first Death Star. As Lucasfilm president Kathleen Kennedy told EW:
Mon Mothma was seen in the Rogue One teaser trailer recruiting Felicity Jones' Jyn Erso, a criminal who has a knack for "rebelling" against Imperial forces. Mon will pair Jyn with Captain Cassian Andor (played by Diego Luna), and with a group of other talented Rebel operatives, they'll try to secure data about the destructive space station. Along the way, they'll encounter resistance not only from Imperial Director Orson Krennic and his Deathtrooper squad, but Darth Vader as well. We don't know yet if this particular group will be successful in stealing the Death Star plans, but by A New Hope, that important information will find its way to Leia, so Mon Mothma's mission will eventually be completed.
While not seen in any of the Star Wars prequels (aside from those deleted scenes), Mon Mothma was around for a lot of that insanity, as she was a Republic Senator during the Clone Wars. When Palpatine transformed the galactic government into the Empire, Mon Mothma helped found the Rebel Alliance, serving as one of its main leaders for over two decades. Since Return of the Jedi barely spent any time with her, it's great that Rogue One will finally shine some light on what her role during the Galactic Civil War entailed. Even though there are many across the galaxy who want to defeat the Empire, not every soldier or freedom fighter shares the same vision of how to accomplish that, so it's up to her to keep everyone united against their common enemy. It's all about that big picture!
Rogue One: A Star Wars Story hits theaters on December 16.
Connoisseur of Marvel, DC, Star Wars, John Wick, MonsterVerse and Doctor Who lore. He's aware he looks like Harry Potter and Clark Kent.
Your Daily Blend of Entertainment News
Thank you for signing up to CinemaBlend. You will receive a verification email shortly.
There was a problem. Please refresh the page and try again.