One Fast & Furious Star Finally Took Vin Diesel's Side In The Ongoing Beef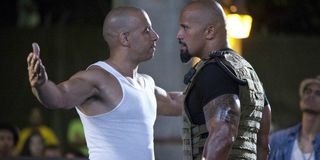 It doesn't look as though this Fast & Furious rivalry is going to die down anytime soon. Because after Dwayne 'The Rock' Johnson kick-started the feud, before then trying to quash it just a few days later, a Fast & Furious stalwart has come out and leapt to the defense of Vin Diesel, the alleged target of Johnson's tirade. Tyrese Gibson, who will be reprising his character of Roman Pearce in Fast 8 for the fifth time, took to Instagram to upload a lengthy diatribe in defense of Vin Diesel. He also posted an image of the duo together to heartily underline whose side of the dispute he is on.
This isn't the first time that Tyrese Gibson has commented on these shenanigans. According to the Daily News, Gibson took to Instagram to write, "Let me calm you guys all the way down ... I don't know WHO he has a problem [WITH] and I don't have any details of WHAT those problems are." Gibson also posted a video of The Rock singing to his young daughter Shayla, before adding, "Why are you guys so impressionable? A man wouldn't be singing from his heart and soul to another man's little angel if he had a problem with her dad." For whatever reasons, though, soon after posting these comments, he deleted them.
This furore began back on Monday, when Dwayne Johnson took to his Instagram account to reveal that he was wrapping up his time on the set of Fast 8. However, after praising all of his female co-stars, Johnson couldn't resist a dig at some of the film's male actors, as he wrote, "Some conduct themselves as stand up men and true professionals, while others don't. The ones that don't are too chicken s* to do anything about it anyway. Candy a**."
This immediately provoked a wave of online chatter about who The Rock was actually talking about. TMZ were the first to allege that it was Vin Diesel, insisting that the former wrestler had grown tired of the way that the 49-year-old had conducted himself during filming and how he handles the franchise. On Thursday, The Rock once again took to social media to post a sort-of apology, writing, "And like with any team -- that's a family -- there's gonna be conflict. Family is gonna have differences of opinions and fundamental core beliefs. To me, conflict can be a good thing, when its followed by great resolution."
It's also been reported that The Rock and Vin Diesel held clear the air talks in the middle of this week to try and erase the bad-blood, but it's still not known if all is now good between the duo. Undoubtedly, since Fast 8 is not due out until April 14, 2017, we can expect to hear plenty more twists and turns in this feud before then.
Your Daily Blend of Entertainment News
Thank you for signing up to CinemaBlend. You will receive a verification email shortly.
There was a problem. Please refresh the page and try again.