The Rock's Fast 8 Set Tension: Here's What We Know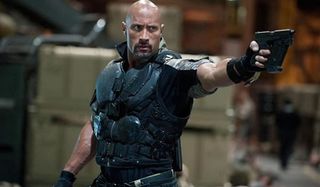 Earlier today, we reported on an Instagram post that was made by Dwayne "The Rock" Johnson, as he's both celebrating and lamenting his last week of shooting on Fast 8. Of course, his lamentations were soon discovered to be coded messages striking out at one of, if not a couple of, his male co-stars. Well, as the day has gone on, we've gotten more information on the feud that's rocked the Atlanta set, as well as supposedly put the former pro-wrestler-turned-superstar actor on the outs with his co-stars. So now's probably a good time to run down what's known, and what's being reported, in terms of this rapidly evolving situation.
Here's What We Know For Sure
The Rock's on-set beef boils down to the following statement in his big Instagram blast:
Naturally, the vague nature of naming his "male co-stars" as candy asses has made The Rock a controversial figure in the workplace, and TMZ has helped narrow down just who the candy asses may be. According to their sources, Chris "Ludacris" Bridges and Tyrese Gibson are both cleared of candy ass status, which helps things a little. However, the failure to elaborate on Dwayne "The Rock" Johnson's part has made the entire male cast of Fast 8 all the more upset with his words.
And just when you thought this situation couldn't get any more interesting, another report came out naming one specific co-star as the party to Dwayne Johnson's ire. That's where we get into rumors and reports territory...
Here's What's Being Reported
The Rock vs. Vin Diesel?
If you guessed that Vin Diesel was the co-star that Dwayne Johnson is having problems with, TMZ's sources would agree.
TMZ broke another report from their sources, which cited the fact that Diesel's responsibilities as a producer to Fast 8 have rubbed Johnson the wrong way. This is not that surprising, as when you go back to the initial Instagram post that Johnson used to vent his feelings, he mentions how the producer in him felt his performance was the best it could be.
The clashing philosophies between the two men have reportedly made shooting Fast 8 almost impossible with the two of them in the same scenes, and it's apparently taken a toll on the cast's morale. Specifically, the fact that all of this alleged drama has started up with a week and a half left before F. Gary Gray's entry into the Fast and Furious canon is in the can has allegedly made the cast rather upset; and if that's the case, you can bet that all of that upset is focused on The Rock's side of the argument.
Relations between the Fast 8 cast and Johnson, or even just between Vin Diesel and Johnson, are uncertain at this point. When last reported, there was a supposedly clandestine meeting between the two franchise leads at some point this afternoon.
We here at CinemaBlend hope that the cast and crew of Fast 8 get to experience a professional and efficient end to their shooting schedule, and that everything works out for the movie. Also, here's hoping that Vin Diesel and Dwayne Johnson settle their rumored differences peacefully, as it really sucks to hear that what might have once a fruitful friendship could be turning into a sour debacle.
Fast 8 races into theaters on April 14th, 2017.
Your Daily Blend of Entertainment News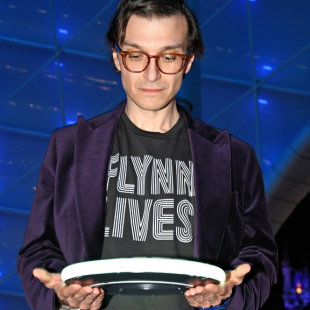 Senior Movies Contributor
CinemaBlend's James Bond (expert). Also versed in Large Scale Aggressors, time travel, and Guillermo del Toro. He fights for The User.