How The Sausage Party Ending Could Lead Into The Best Sequel Idea Ever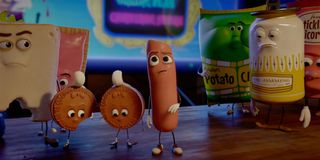 Sausage Party didn't earn enough money at the weekend box office to dethrone Suicide Squad in its second weekend, but it did post the kind of dollars that get studio executives talking about a sequel. The animated adult comedy posted a healthy $33.6 million, good enough for Seth Rogen's 8th largest opening, but behind such mainstream hits as the Kung Fu Panda and Shrek series. The movie's ending sets up a possible direction for Sausage Party 2, and does so in a way that is actually VERY clever... though was that intentional? Let's discuss, with plenty of spoilers -- so I will hide the rest of the conversation underneath this photo. Stop reading now if you do not want to be spoiled on the ending of Sausage Party.
So, by the end of Sausage Party, the sentient food in the grocery store has fought back against the humans who were purchasing them and using them as, well, food. They've given up on the concept of the Gods, and the notion of an afterlife. Only, Firewater (Bill Hader) warns Frank (Seth Rogen) that they've only just scratched the surface of their current awareness. Keep in mind that Firewater smokes a LOT of weed, so what he says needs to be taken with a grain of salt.
But he informs Frank and the rest of the food that they're actually cartoons, being manipulated and voiced by human celebrities such as Seth Rogen and Edward Norton. We see images of Rogen and Norton, and Sausage Party becomes as meta as possible. With this new knowledge tucked away, Gum (Scott Underwood) -- a Stephen Hawking-inspired wad of chewed up bubblegum -- explains that he has created a portal to the real world. Frank and his cohorts step through it, presumably to get revenge on the celebrities who are giving them voices.
It's a pretty bizarre ending.
However, in a downright brilliant move, the portal might allow Seth Rogen to come up with a funny follow up to Sausage Party 2 that hits theaters much faster than you might think. How? If Sony wants to do Sausage Party 2 -- and given the studio's need for new franchises, why wouldn't they? -- they could easily do a live-action story set in the "real" world that only uses some animation, so that Rogen and his co-stars could interact with their culinary counterparts. Rogen assembled a high-powered ensemble of hysterical comedians and actors for Sausage Party, from Kristen Wiig and Jonah Hill to Hader, Salma Hayek, Michael Cera and Nick Kroll. They all seem to be on board with the type of humor in Sausage Party, so continuing the joke in a live-action setting likely wouldn't be that complicated. I'm not saying that they could whip this sequel up overnight. But a live-action follow up would take far less time than the three to four years of production needed to bring an animated movie to the big screen.
How likely is this Sausage Party 2? It's a good question. Rogen's not opposed to sequels (see Neighbors 2: Sorority Rising), and he's often behind animated follow ups. If Sony gave them creative freedom, I could easily see Rogen and Evan Goldberg coming up with the further adventures of Frank and Brenda (Wiig) in the real world. And this ending may have set that up beautifully. What do you think? Do you want to see Sausage Party 2? And would that type of sequel be a good idea?
Sean O'Connell is a journalist and CinemaBlend's Managing Editor. He's frequently found on Twitter at @Sean_OConnell. ReelBlend cohost. A movie junkie who's Infatuated with comic-book films. Helped get the Snyder Cut released, then wrote a book about it.
Your Daily Blend of Entertainment News
Thank you for signing up to CinemaBlend. You will receive a verification email shortly.
There was a problem. Please refresh the page and try again.