International Star Wars: Rogue One Trailer Reveals An Important Detail About Jyn Erso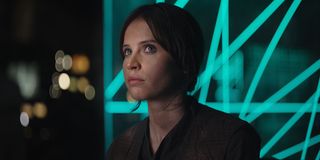 Warning: spoilers for Rogue One: A Star Wars Story are ahead!
Last Thursday, Lucasfilm released the second Rogue One: A Star Wars Story trailer during the Olympics, following four months after the teaser's release. This new preview has since done gangbusters with fans online, but more importantly, it gave us longer looks at the movie's main players. However, one character who was conspicuously absent was Jyn Erso's father, Galen Erso, played by Mads Mikkelsen. Thanks to the international version of the new trailer, we've learned that Galen is the one responsible for tipping the Rebellion off about the Empire getting ready to test their new superweapon, the Death Star.
For the most part, this (shorter) international Rogue One trailer (via Comicbook.com) shows the same footage seen last week, but at the 0:26 mark, Diego Luna's character, Cassian Andor, tell Jyn Erso that the message about the Empire's "imminent" weapons test came from her father. The rest of the trailer proceeds as normally, but this is an important revelation that sheds more light on why Jyn is recruited into the Rebellion. They need her to track down her father, who seems all too eager to help the Rebellion if he risked the Imperial wrath to pass along a message about the Death Star.
You can watch the Rogue One international trailer below to see this moment for yourself.
Mads Mikkelsen accidentally confirmed three months ago that he was playing Jyn Erso's father in Rogue One, but last month, it was revealed that Galen is a scientist who had played some kind of role in the Death Star's construction. However, another rumor from earlier in the year stated that Galen isn't a diehard Imperial supporter, and if he's willing to alert the Rebellion about the space station's weapons test, then evidently he feels some remorse for his involvement and wants to set things right. To track him down, the Rebels will recruit Jyn Erso to find him, and from there, they'll try to sneak the Death Star plans out of Imperial hands.
While the Rogue One trailer has proved helpful on expanding on how Galen fits into the story and why Jyn has been approached to head a dangerous mission, it still doesn't explain why she and her father aren't close. Jyn has an impressive criminal record under her belt when she's brought before Mon Mothma and the Rebellion leadership, and from the looks of things, she's been on her own for a while. Did she run away from home at an early age because her father's work meant he couldn't spend enough time with her, or is there another reason for their estrangement? Also, how does the mother factor into all this? She could be the key link between why Jyn and Galen are on distant terms.
We'll find out what's in store for both of the Ersos when Rogue One: A Star Wars Story is released on December 16.
Connoisseur of Marvel, DC, Star Wars, John Wick, MonsterVerse and Doctor Who lore. He's aware he looks like Harry Potter and Clark Kent.
Your Daily Blend of Entertainment News
Thank you for signing up to CinemaBlend. You will receive a verification email shortly.
There was a problem. Please refresh the page and try again.