Kevin Bacon Is Ready To Tackle A Famous Horror Movie Villain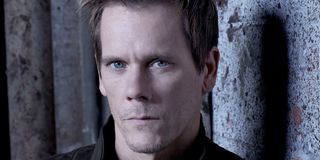 Some actors seem born to play heroes. Others, like Kevin Bacon, seem born to play the monsters that heroes fight. The silver screen icon has become known for his ability to portray villains, creeps and all-around weirdos over the years, but the one horror role he really wants to play could represent his magnum opus. Step aside, Robert Englund, because Kevin Bacon apparently thinks he has what it takes to take on the legendary role of Nightmare On Elm Street killer, Freddy Krueger. Check out his response to a fan that suggested the idea.
A member of Kevin Bacon's fan base took to Twitter recently to suggest that the Footloose actor would make a perfect casting choice for the iconic and immortal serial killer, Freddy Krueger, in a rebooted Nightmare On Elm Street film. Unbeknownst to her, Bacon likes to keep tabs on his fans. He found her tweet and instantly latched onto the idea, voicing his own support for the proposition in a tweet of his own. Does this guarantee that he will play Freddy? No. Should it get fans excited? Quite possibly.
We have to say that we think Kevin Bacon could make an absolutely perfect Freddy Krueger. Everybody knows that Bacon makes anything better. The man has a distinct knack for playing creepy bad guys with a long charismatic streak. From more realistic, down to earth bad guys such as his role as Wade in The River Wild and Sheriff Kretzer in last year's Cop Car, to more fantastical roles like Sebastian Shaw in X-Men: First Class and Sebastian Caine in Hollow Man, the guy's resume is chock full of memorable villains. Freddy would take the best elements of all these other roles and combine them into one insanely terrifying mixture.
Kevin Bacon also already has a very strong pedigree when it comes to the horror genre. In the earlier years of his career, he took on plenty of horror roles in films like Tremors and the original Friday the 13th. If, by some chance, he gets the opportunity to take on the role of Freddy Krueger at some point, then he could finally be the slasher who kills the horny teens, instead of playing one of the horny teens.
You all remember that one scene from Friday the 13th; check it out below in all its gory glory:
These days it's not even sacrilegious to consider recasting Freddy Krueger. Although most people generally agree that the Nightmare on Elm Street remake from 2010 didn't make much of an impression on audiences, Jackie Earle Haley still proved that someone other than Robert Englund could deliver scares in the fedora and sweater. If any current mainstream actor has the potential to carry the legacy of everyone's favorite burn victim, it's definitely Kevin Bacon.
Would you like to see Kevin Bacon take on the role of Freddy Krueger, or do you have someone else in mind? Let us know what you think in the comments section below to keep this conversation going!
Your Daily Blend of Entertainment News
Originally from Connecticut, Conner grew up in San Diego and graduated from Chapman University in 2014. He now lives in Los Angeles working in and around the entertainment industry and can mostly be found binging horror movies and chugging coffee.
Your Daily Blend of Entertainment News
Thank you for signing up to CinemaBlend. You will receive a verification email shortly.
There was a problem. Please refresh the page and try again.