Anna Kendrick's Squirrel Girl Idea Just Got An Important Thumbs Up At Marvel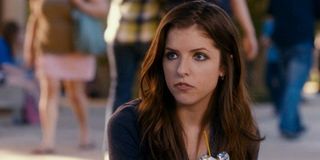 Robert Downey Jr. was born to play Tony Stark, and Ben Affleck surprised the world by making a perfect Batman, but those are mainstream heroes. Squirrel Girl? That's a role that Marvel would need to cast perfectly in order properly work, and it just so happens that the perfect actress might already be out there. Anna Kendrick recently suggested the idea of joining the Marvel Cinematic Universe as Doreen Green a.k.a Squirrel Girl, and now it seems that The Russo Brothers have voiced their approval for such a casting decision. Joe Russo specifically said:
While speaking recently with Yahoo Movies to promote the upcoming home release of Captain America: Civil War, Joe and Anthony Russo voiced their immense approval for Anna Kendrick hypothetically taking on the role of Squirrel Girl. Not only do they think she would fit perfectly into the Squirrel Girl character, but Joe Russo also explains that they're both big fans of the young actress' body of work. They aren't the first filmmakers to jump on board with this idea either. Earlier this month director Edgar Wright similarly campaigned for Kendrick to get the role by taking to Twitter to voice his own support. There's an obvious amount of momentum building here, and after a while it could become hard for Marvel Studios to ignore it.
It's difficult to deny that Anna Kendrick would make a perfect Squirrel Girl, especially when reputable filmmakers from the Marvel Cinematic Universe share that sentiment. Doreen Green, a.k.a Squirrel Girl is an obscure Marvel character known for her diminutive stature, and chipper demeanor, as well as her immense superhuman powers that (you guessed it) mirror the abilities of a squirrel. That pretty much matches Kendrick's own public persona to a T (minus the superpowers). Marvel has already claimed that it will go to some truly unique and new places in Phase 4, and nothing would epitomize that creative decision more than a Squirrel Girl movie.
Of course, if Anna Kendrick wants the role of Squirrel Girl, she might find some competition along the way. In addition to Ms. Kendrick, actress Shannon Purser (seen above) -- otherwise known as Barb on Netflix's Stranger Things -- has also voiced her own desire to play the role of Doreen Green at some point. While Anna Kendrick certainly brings a great deal of star power to the MCU, Barb became a quick fan-favorite character on Stranger Things' first season, and Purser could bring the sort of "flavor of the month" appeal that we see in so many other Marvel casting decisions.
All that being said, we have to note that Marvel hasn't even officially announced a Squirrel Girl movie yet. There's obviously a great deal of enthusiasm for the project, both in and out of Marvel Studios, but we've received no official word that anything of the sort will actually happen. That being said, if people keep asking for it we have a distinct feeling that it will eventually materialize.
We will keep you up to date with all of the latest Marvel comings and goings as more details become available to us. Make sure to pick up Captain America: Civil War on Digital HD on September 2, and Blu-ray on September 13.
Originally from Connecticut, Conner grew up in San Diego and graduated from Chapman University in 2014. He now lives in Los Angeles working in and around the entertainment industry and can mostly be found binging horror movies and chugging coffee.