Viktor Krum From Harry Potter Looks Unrecognizable Now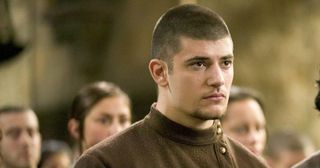 We all have to grow up sometime, and the beauty of child actors is that we often get to watch that process happen right in front of our very eyes. No series takes this notion to heart more than the Harry Potter franchise, as we spent an entire decade watching Harry, Ron, Hermione, and all of the rest grow from pre-teens into full-fledged adults. It's been a number of years since we last saw any of these characters, and some of the transitions may seriously surprise you. We just caught a recent glimpse of Stanislav Yanevski a.k.a Viktor Krum for the first time in a while, and he looks completely different. Check out the photo below to see what I'm talking about.
One look at Stanislav Yanevski's Instagram account will instantly tell you everything that you need to know. The former Harry Potter star grew up -- in a big way. No longer sporting the Viktor Krum buzz cut and overall stern demeanor, the actor has a grown out hair and beard combo that could most aptly be described as "heavy metal chic." In fact, it looks like he hasn't even seen a razor or scissors since Harry Potter and the Deathly Hallows hit theaters all the way back in 2010. If I didn't know better, I would say he is an actual wizard now.
The abundance of facial hair is not the only thing that makes Stanislav Yanevski barely recognizable from his Harry Potter days. While the actor has very obviously grown up, he has also taken it upon himself to partake in a few basic body modifications over the years. That's right; the guy's about as inked as they come. Check out his utterly badass sleeve tattoo below to see for yourself:
I'll give the former Viktor Krum credit for one very important thing: he seems to have stuck with the world of magic. His tattoos have a very mystical quality to them, and it's hard to shake the feeling that the ink on his body harkens back to some of the generally darker sequences in the Harry Potter franchise. Maybe it's nostalgia, or maybe it's just the fact that they look awesome.
Viktor Krum was never the most prominent character in the Harry Potter film series, but he definitely made a lasting impression on audiences. The now 31-year-old actor first appeared in 2005's Harry Potter and the Goblet of Fire as a competitor in the Triwizard Tournament, and subsequently showed up again in 2010's Harry Potter and the Deathly Hallows as a love interest to Hermione Granger -- before she made the right decision and got together with Ron. The Wizard World never featured too many strong, silent types, but Krum filled out that role beautifully.
If you have any interest in feeling like a super old person, make sure to check out the rest of Stanislav Yanevski's Instagram posts. It will most certainly make you realize how long it's been since the Harry Potter films graced our screens. We will just have to wait and see where the next era in the Wizard World takes us next when Fantastic Beasts and Where To Find Them hits theaters on November 18. Stay tuned for more details!
Originally from Connecticut, Conner grew up in San Diego and graduated from Chapman University in 2014. He now lives in Los Angeles working in and around the entertainment industry and can mostly be found binging horror movies and chugging coffee.
Your Daily Blend of Entertainment News
Thank you for signing up to CinemaBlend. You will receive a verification email shortly.
There was a problem. Please refresh the page and try again.