This Rotten Week: Predicting Sully, The Disappointments Room, When The Bough Breaks And The Wild Life Reviews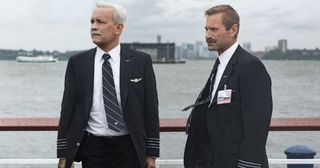 It doesn't seem that many of your are spending your Labor Day weekend at the movies, but the good news is that the box office will be packed with four new flicks this Friday to help you kick off the fall season right. Get ready for Sully, The Disappointments Room, When the Bough Breaks and The Wild Life. It's gonna be a Rotten Week!
Let's Just remember, I'm not reviewing these movies, but rather predicting where they'll end up on the Tomatometer. Let's take a look at This Rotten Week has to offer.
While Clint Eastwood hasn't exactly been at the top of his game in recent years, his most recent movie, Sully, looks excellent. It has all the hallmarks of a box office and possible award season success, telling the true story of how pilot Chesley Burnett "Sully" Sullenberger avoided disaster by landing a damaged plane full of passengers in the Hudson River. Tom Hanks was essentially genetically engineered in a Hollywood lab for roles like this. He thrives in putting an emotional spin on true stories, and is likely headed for some kind of award season nod already.
Clint Eastwood can still crank them out even if critical reception hasn't been his best friend in recent years. That being said, his last movie, American Sniper, did manage to score a 72% on Rotten Tomatoes and a Best Picture nomination at the Academy Awards. Sully looks like a real hero story with a flawed dude in "Sully" pulling off maybe the greatest feat in pilot heroics ever. I can't imagine critics not going gaga here.
Not a month goes by at the box office in which a couple (or family, or some parent/ kid combo) doesn't move into a new house (conveniently huge and priced well below market value) to start a new life together. But lo and behold (and I'm sure you saw this coming) the house is full of secrets, terrors, ghosts or demons that slowly turn everyone crazy making the home-buying experience not everything it's cracked up to be. These flicks come out ALL-THE-TIME. Enough already. It also feels like one in every three of these flicks is based on "True Events" or some other conveniently worded reference. What a joke. The Disappointments Room, is no different with a family of three moving into a new house, uncovering a hidden room full of secrets and a bunch of horror ensues. Yawn.
Director D.J. Caruso does have some thriller chops, and has had some success in the past, with the Shia LaBeouf-starring Disturbia (62%) being one such example. But he also has a bunch of clunkers like Eagle Eye (26%), I Am Number Four (33%), and Two for the Money (22%). I have a feeling that The Disappointments Room will fall in the latter category of the resume. It all just seems recycled material, and it's hard to imagine critics responding positively to it.
A couple wants to have a baby, can't so they call in a surrogate to put in work. And this wouldn't be Hollywood unless that second woman turned into a total psychopath stalker that threatened not only the baby's life, but the original couple's relationship as well. You know, just like in real life. This is what we're getting in the form of the new thriller When The Bough Breaks, and it doesn't look like audiences should go in expecting much from it.
Director Jon Cassar doesn't have much in the way of film directing credits, though he's got some television under his belt with shows like 24 and Terra Nova. Ultimately, this looks like your standard couple's thriller with all the same kinds of beats. Happy couple meets seemingly well-adjusted third party, and it turns out that they are very wrong. The third party is much, much worse than originally thought, violence and manipulation ensues until there is some kind of big, dramatic showdown. Not really anything to see here.
It's not really fair to call The Wild Life a "new" release, as it actually came out in European theaters months ago under the name Robinson Crusoe. An island full of talking animals telling jokes that will appear to the 4-7 year old crowd (and no one else) are visited by a marooned sailor trying to survive Castaway style. I guess it looks cute enough though nothing to get overly excited about.
The key to animated movies is appealing to both the youth crowd and the parents who take them to theater (and pay for it). Certain studios and animated film makers have mastered this crossover appeal with a sophistication in the writing and storytelling. The Wild Life doesn't look like it fits the mold. While likely not out-and-out bad, it just doesn't look like much of a movie. Juvenile jokes, a cute-ish story and that's about it. I doubt we remember it a month from now. The critics sure aren't beating the drum early.
There was only one movie put into wide release last week, and it was a Rotten Watch win. Derek Cianfrance's The Light Between Oceans (Predicted: 53% Actual: 61%) fell safely within in the 10% range that I use to gauge success. I predicted it fell near the middle because it just looked so plain Jane as to not ruffle feathers in one direction or get anyone excited in the other. A good cast, solid director, milquetoast story and you can call it a day. Critics thought it was overly melodramatic at times, but not enough to sink the ship (so to speak). In fact, a ton of reviewers pointed out the melodrama, with it being a key word in most of their written opinions.
Next time around we've got Blair Witch, Bridget Jones' Baby, Hillsong - Let Hope Rise and Snowden. It's gonna be a Rotten Week!
Your Daily Blend of Entertainment News
Doug began writing for CinemaBlend back when Terminator: The Sarah Connor Chronicles actually existed. Since then he's been writing This Rotten Week, predicting RottenTomatoes scores for movies you don't even remember for the better part of a decade. He can be found re-watching The Office for the infinity time.
Your Daily Blend of Entertainment News
Thank you for signing up to CinemaBlend. You will receive a verification email shortly.
There was a problem. Please refresh the page and try again.