Watch The Avengers Battle Transformers In This Epic New Fan Trailer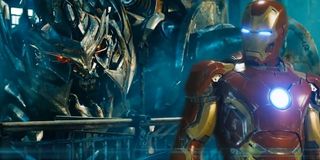 Costumed superheroes vs. giant robots. Think about it, that's blockbuster entertainment at its finest, and with the Marvel Cinematic Universe and the Transformers series being among the biggest current movie franchises, no doubt many folks have at one time or another imagined what it would be like if these two worlds collided, with or without action figures. While such a movie may never become a reality, we now have the next best thing, as a cool-looking fan trailer pitting Earth's Mightiest Heroes against the Robots in Disguise has found its way online. Check it out!
The folks over at Screen Rant have edited an Avengers vs. Transformers fan trailer, using, of course, footage from the four Transformers movies released so far and many of the MCU entries. There's also some footage from The Amazing Spider-Man 2 thrown in, so Andrew Garfield's iteration of the Web-Slinger gets to participate in the insanity. Just like in the main Transformers series, the Decepticons have come to Earth to destroy our planet in order to rebuild their homeworld, Cybertron. In this continuity, however, it's the Tesseract (a.k.a. the Space Stone) rather than the AllSpark that will accomplish this, but hey, at least they're both cubes. Thor also tells his fellow Avengers of his previous experience with these robotic organisms. I wonder which of the Nine Realms they come from.
After a number of unusual occurrences around the world (according to Andre Braugher from Fantastic Four: Rise of the Silver Surfer, anyway), the Decepticons eventually launch their attacks across the world, and only the Avengers and their superhero allies stand in their way. You need to watch the trailer to experience the full explosiveness of this war, but there are a lot of cool moments, from Hulk sinking his fists into one of the Decepticons to Ant-Man shrinking down and messing with their body's circuitry to Winter Soldier shooting a grappling hook into Megatron's face. At the very end, Optimus Prime and his Autobots arrive to lend a hand, much to the surprise of Star-Lord and the other heroes.
As mentioned earlier, the chances of an Avengers vs. Transformers movie ever being made are extremely slim, but it's still cool to see such a crossover realized using existing footage in a supercut trailer. However, that doesn't mean the Avengers and Transformers couldn't cross paths in a different medium. If we can get crossovers like Green Lantern/Star Trek and Batman/Teenage Mutant Ninja Turtles in the comic books, maybe one day Marvel and IDW Publishing, the company that's currently putting out Transformers comics, can work out an arrangement for the printed page.
The Marvel Cinematic Universe continues on November 4 with Doctor Strange, while Transformers: The Last Knight hits theaters on June 23, 2017.
Your Daily Blend of Entertainment News
Connoisseur of Marvel, DC, Star Wars, John Wick, MonsterVerse and Doctor Who lore. He's aware he looks like Harry Potter and Clark Kent.
Your Daily Blend of Entertainment News
Thank you for signing up to CinemaBlend. You will receive a verification email shortly.
There was a problem. Please refresh the page and try again.