Did Kevin Conroy And Mark Hamill Just Hint At Animated Movies For Two Iconic Batman Stories?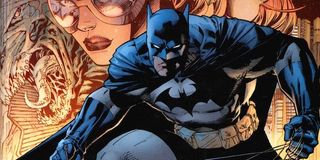 DC Comics may just be getting their live action cinematic universe underway, but many will agree that when it comes to animation, the comic book company reigns supreme. Not only have most of their TV shows been well-received, but since 2007, they've released a steady stream of animated movies, many of which have starred Batman. Not counting involvement in team-up movies (of which there are plenty), the Caped Crusader has led 10 movies so far, and you can be sure many more will follow. Now longtime Batman voice actors Kevin Conroy and Mark Hamill are hinting that Batman: Hush and Batman: A Death in the Family may be the next storylines to get the animated treatment.
This past weekend at Canada's 2016 Fan Expo (via Screen Geek), Conroy and Hamill reunited for a panel, and during the Q&A segment, one fan asked them if either of them were done voicing Batman and The Joker, respectively, as well as what kind of projects they would like to work on next. After answering 'no' to the first question, Conroy turned to Hamill and slyly asked him, "What do you think about doing Hush?" That led to Hamill asking in return, "What do you think about doing A Death In The Family?" Needless to say, the audience cheered at the prospect of seeing these storylines being made into animated movies, but it's unclear whether the actors were merely having some fun or truly hinting at projects coming down the pipeline.
From Batman: The Animated Series to most recently reuniting for Batman: The Killing Joke, Kevin Conroy and Mark Hamill are two of the most beloved Batman talents, being the definitive voices of Batman and Joker, respectively, for a whole generation of fans. To hear that they won't be leaving the Batman mythos anytime soon is great by itself, but the idea of them providing their voices for two of the most iconic Batman storylines ever is another level of excitement.
Batman: A Death in the Family, written by Jim Starlin and illustrated by Jim Aparo, is notorious for killing off Jason Todd, the second Robin, at the hands of The Joker, leaving Batman with enormous guilt even after Jason was revived years later. The story was partially adapted in 2010's Batman: Under the Red Hood when fans watched Joker kill Jason Todd at the beginning of the movie, but it's has never been fully adapted outside of the printed page.
Batman: Hush, written by Jeph Loeb and illustrated by Jim Lee, introduced the super villain Hush, manipulated most of Batman's most notorious enemies against him in an elaborate conspiracy, including The Joker. Hush has appeared in two of the Arkham video games and made a minor appearance in Gotham, but a Hush animated movie would arguably be his biggest appearance outside the comic yet.
Which storyline sounds more appealing to see translated into an animated movie: Batman: A Death in the Family or Batman: Hush? Let us know what you think in the comments below.
Connoisseur of Marvel, DC, Star Wars, John Wick, MonsterVerse and Doctor Who lore. He's aware he looks like Harry Potter and Clark Kent.
Your Daily Blend of Entertainment News
Thank you for signing up to CinemaBlend. You will receive a verification email shortly.
There was a problem. Please refresh the page and try again.