The Avengers Crossed With Full House Is An Awesome Blast of 90s Nostalgia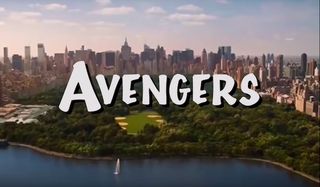 Whatever happened to predictability? Loki, the Chitauri, Ultron and Klaw? Yes, as part of the internet's latest craze of combining blockbuster movies with '80s/'90s sitcoms, the Avengers have now found themselves at this generation's Full House cast. As weird as the premise sounds, it actually works remarkably well. Check out their theme song below to get hit by a massive wave of nostalgia.
Youtuber Zach Ace put together an amusing TV opening of Full House crossed with the Avengers, using footage from Earth Mightiest Heroes' first two movies and Captain America: Civil War. Moving from that house in San Francisco to the New Avengers headquarters outside of New York City, this hybrid has all your favorites. Captain America is the new Danny Tanner (because he's so straight laced), Iron Man is the new Joey Gladstone (because he's always cracking jokes and quips) and Thor is the new Uncle Jesse (because of the hair, duh).
From there, it's hard to assign the other Avengers corresponding Full House characters, but Hulk, Black Widow, Hawkeye and Spider-Man all get to partake in the sitcom fun. Oh, and as Robert Downey Jr. pointed out when he shared the video on his Facebook page, eachFull House mashup needs at least one Olsen involved. Fortunately, the Avengers/Full House has Elizabeth Olsen to play Scarlet Witch. Just don't expect her to say, "You got it, dude!" Not to worry, Falcon, Vision, War Machine, Ant-Man, Black Panther and Winter Soldier will presumably still show up as recurring characters.
While the actual Full House series revolved around a father and his friends raising three young girls, the Avengers show has the main characters protecting the entire world from threats, but there are still plenty of sitcom shenanigans to go around. Remember that one time Bruce Banner hid Thor's comb so the God of Thunder couldn't get his hair ready in time for his big date? Or how about when Tony Stark had "Star Spangled Man" play whenever Steve Rogers entered a room? Good times.
Of course, it's not all funs and games. There are also plenty of life lessons to be learned along the way while watching the Avengers adventures. Be careful who you let use your glowing, space-bending blue cube. Don't mess around with artificial intelligence. It's better to work out your problems with words rather than fight about them in a German airport. So make sure to tune in to The Avengers/Full House series on Friday night to get your dose of family comedy and superhero antics.
While you won't hear any catchy theme songs or laugh tracks, you can see the Avengers in action during their latest adventure, Captain America: Civil War, which is now available to purchase on Digital HD.
Your Daily Blend of Entertainment News
Connoisseur of Marvel, DC, Star Wars, John Wick, MonsterVerse and Doctor Who lore. He's aware he looks like Harry Potter and Clark Kent.
Your Daily Blend of Entertainment News
Thank you for signing up to CinemaBlend. You will receive a verification email shortly.
There was a problem. Please refresh the page and try again.