Why J.K. Rowling Chose The Woolworth Building For The U.S. Magical Government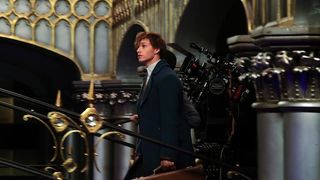 Woolworth building? More like Owlworth building. As it turns out, the presence of an owl in the architecture of the iconic New York City building is part of what sold J.K. Rowling on making it the setting of MACUSA, the Magical Congress of the United States of America. It's a key location in the Harry Potter spinoff movie, Fantastic Beasts and Where To Find Them. And from what Production Designer Stuart Craig told us when we visited the set of Fantastic Beasts back in December, J.K. Rowling did a lot of research before deciding where MACUSA would be headquartered, and it sounds like two factors led to the Woolworth Building being the right choice, one of which is the Gothic look of it...
But there was one other thing that Stuart Craig is certain J.K. Rowling loved, and that's the owl in the entranceway of the Woolworth building...
He's not joking, either. There's an actual owl carved into the archway of the Woolworth building. CinemaBlend's own Greg Wakeman recently went down there to check it out, and snap some photos of the actual New York building (these are NOT set photos.) Check out the owl...
That's a close-up view of the owl. The Woolworth building is presently covered in scaffolding, but if you want to get a sense of where the owl is in relation to the rest of the entranceway...
There it is, perched atop like a Harry Potter easter egg just waiting a century to be relevant.
From what Stuart Craig told us, J.K. Rowling was a bit concerned about the modern look of some aspects of the model they made for the movie, which prompted them to make some adjustments to make it a bit more gothic on the inside...
Between the gothic style, the owl and what adjustments were made to connect our world with Rowling's magical backdrop, it sounds like they made it work. We'll see when Fantastic Beasts hits theaters in November. In the meantime, there's one more thing about the Woolworth building that recently caught our attention, and that's the eagle hovering over the top of the archway...
Stuart Craig didn't bring that up when we spoke to him back in December, but it does seem particularly fitting for the movie that there would be an eagle up there, especially when we take into account the MACUSA emblem:
Of course, the MACUSA emblem appears to have been designed to be similar to the Great Seal of the United States. Maybe that was also the inspiration for the eagle when that archway was built. Still, the presence of an owl and an eagle on the outside of the Woolworth building really makes it seem like the perfect location to hide the secret U.S. wizarding government.