Why Tom Hanks Deserves An Oscar Nomination For Sully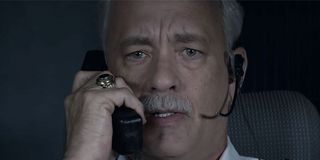 This past weekend, Clint Eastwood's Sully has unofficially kicked off 2016's awards season, and it did so with one impressive performance. While we're used to Tom Hanks putting in the work and delivering consistently excellent material throughout his career, his performance as Captain Chesley "Sully" Sullenberger is perhaps one of his most impressive, and more than worthy of a Best Actor nomination come Oscar season.
With his portrayal of the pilot responsible for the "Miracle on the Hudson," Hanks disappears into the mannerisms and the general demeanor of Captain Sullenberger, as he assumes command of the very biopic named after him. This isn't meant to insult or downgrade the performances given by the rest of the stellar cast, but rather to help bolster their work as well. If a lesser actor was cast as Sully, everyone else's job would have been that much harder.
But with Tom Hanks manning the wheel, he carries the film much as the Captain himself maintained order during the chaotic forced water landing of US Airways Flight 1549. The events depicted in Clint Eastwood's film are shocking enough on their own, yet some may feel their acting instincts telling them to shout with each command and scrunch their face into a mask of discomfort. Not Hanks, as he exudes command with every frame of film, which leads to one of the biggest selling points of the legendary actor's work in Sully.
Perhaps the greatest reason that Tom Hanks is worthy of an Academy Award nomination for his work in Sully is the fact that it is one of his most subdued performances. Eschewing the melodrama that some may inject into such a harrowing scenario, Hanks keeps his version of Captain Sullenberger in the same wheelhouse as the man himself. This requires him to exhibit the emotional weight of the Captain's tumultuous cross-examination the film depicts, while at the same time keeping the role of Captain Sullenberger on the even keel that the man himself has always been known for.
As an example of the effective nature of his performance, take a look at the actual interview between Captain Chesley Sullenberger and Katie Couric, conducted shortly after Flight 1549's fateful landing:
Now take a look at the trailer for Sully, which showcases part of the film's depiction of that same interview. Note that while his physical appearance is still very much that of his own iconic visage, you can see, and hear, how Tom Hanks has inhabited the persona of Sully himself.
Throughout the film, Hanks is as soft spoken as the real Captain Sullenberger, even in moments of crisis and doubt. When he's facing off against the NTSB inquiry towards the end of the film, he tells off the board without raising his voice. Hanks uses his words in that scene, and in every other scenario he's put into throughout Sully, and he does so with expert timing.
There are even moments when, looking at Tom Hanks' physical performance in Sully, I could see more of Captain Sullenberger in him than I could see his usual face. Much like his performance as Walt Disney in Saving Mr. Banks, Hanks melts into his role in such a way that the lines are extremely blurred. If anything, he is the epitome of the sort of actor that can give off enough of the aura surrounding whatever public figure he's playing that you start to wonder where he ends and the acting begins.
Sully seems like a shoo-in for technical award nominations, as well as a possible short-list candidate for the Best Picture nomination at next year's Oscars. But without a doubt, Tom Hanks should land himself yet another acting nod for his work in Sully, as it shows once more that he is not only a dedicated professional, but he's also a living legend in the field of acting.
You can see for yourself, as Sully is in theaters now.
Your Daily Blend of Entertainment News
Senior Movies Contributor
CinemaBlend's James Bond (expert). Also versed in Large Scale Aggressors, time travel, and Guillermo del Toro. He fights for The User.
Your Daily Blend of Entertainment News
Thank you for signing up to CinemaBlend. You will receive a verification email shortly.
There was a problem. Please refresh the page and try again.