One Fast Food Chain Has A Real Beef With DC's Upcoming Wonder Woman Movie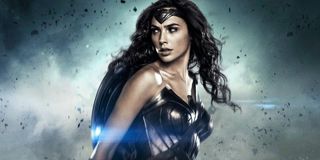 DC has enough problems at the moment without getting into a tiff with a fast food company. But unfortunately the logo for Wonder Woman has seen them do just that as the fast food chain Whataburger have revealed that they are currently in discussions with DC Comics over the similarities between the blockbuster's logo and their own "flying W."
Things are still quite civil at the moment, though. The Texas-based hamburger chain admitted that they are currently in the midst of a "friendly trademark discussion" with DC Comics over the issue. Whataburger even released a statement to The Houston Chronicle, via Newsarama, that looked to downplay any dispute, as they insisted that they are very much pro superhero and only have kind words to say about DC's posse of protagonists. After dismissing reports of a rivalry over Wonder Woman's "newly redesigned logo" they then noted:
Considering the reaction to both Batman V Superman: Dawn Of Justice and Suicide Squad over the last few months there's every chance that DC Comics might turn to Whataguy in the near future to try and beef up their roster. Obviously I kid. I just wanted to make a pun. All puntastic jokes aside, the similarities between the Whataburger and Wonder Woman logos are rather obvious. Need proof? Exhibit A, which you can view below, is of Whataburger's bright orange banner:
While here's Wonder Woman's brand new logo, which clearly bares an uncanny resemblance to the above:
Whataburger and DC have actually been here before though. Whataburger's "W" logo was created in 1972. Then, in 1985, both DC and Whataburger secured separate trademarks for their logos, even though Wonder Woman's was admittedly "somewhat" different to the hamburger chain's and they were in two completely separate fields. But now Whataburger insists that the new Wonder Woman logo is just too similar to theirs. And since the latter is due to expand into fast food ahead of the release of Gal Gadot's solo outing as the heroine some things will clearly need to be cleared up before next June.
Your Daily Blend of Entertainment News
Your Daily Blend of Entertainment News
Thank you for signing up to CinemaBlend. You will receive a verification email shortly.
There was a problem. Please refresh the page and try again.