The Power Rangers Movie Has Found Its Alpha 5, And He's Amazing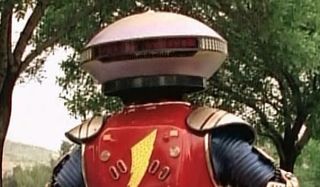 Because the actors playing the new cinematic Power Rangers are all relatively unknown, the upcoming reboot has been surrounding the young protagonists with some notable names from Hollywood. Elizabeth Banks is playing the main antagonist, Rita Repulsa, while Bryan Cranston is returning to his Power Rangers roots to play their mentor, Zordon. Now arguably the most important supporting character from the Mighty Morphin' Power Rangers lore following those two has finally been cast, as Bill Hader will play Alpha 5 in Power Rangers.
The Power Rangers social media accounts officially announced today that Hader will voice Alpha 5, Zordon's robotic assistant. Power Rangers concluded shooting back in late May, but there's still plenty of post-production work to be done, and no doubt that also includes work on Alpha 5. While the original Alpha 5 was a person in a brightly colored robot suit, it remains to be seen whether the movie's version will also be a practical creation or constructed with CGI (my money's on the latter). Given Hader's talent with creating funny voices, casting him as Alpha 5 was a wise decision, and we're eager to hear how he'll put his own spin on the character.
For those who didn't catch Mighty Morphin' Power Rangers while growing up, Alpha 5 was Zordon's right-hand robot and would work from the Command Center to keep the Rangers updated and coordinated on monster attacks. Aside from his child-like personality, he was best known for frequently crying out "Aye-yi-yi-yi-yi!" whenever he was alarmed by a situation. Other Alpha robots were introduced in follow-up Power Rangers shows, but Alpha 5 will always be the most famous of the bunch. Much like how the new Power Rangers' suits are much different compared to what their TV predecessors wore, we can presume that Alpha 5 will look radically than how he does below, though ideally with some traces of his original colors or design. It's possible that fans will get to see what this version of him looks like when the movie presents a "first look" next month at New York Comic-Con.
Bill Hader is best known for his live action comedy work, be it his many years on Saturday Night Live or starring in movies like Trainwreck, but he's also made a name for himself as a voice actor in recent years. Those credits include playing Fear in Inside Out, Firewater in Sausage Party and Leonard in The Angry Birds Movie. His voice was also combined and digitally altered with Parks and Recreations star Ben Schwartz's to portray BB-8 in Star Wars: The Force Awakens. While Power Rangers is intended to be a more "grounded" and mature take on the Mighty Morphin' Power Rangers lore, Hader using his comedic talents to bring the new Alpha 5 to life will help make the movie feel lighter at key points.
Power Rangers morphs into action on Mach 24, 2017.
Your Daily Blend of Entertainment News
Connoisseur of Marvel, DC, Star Wars, John Wick, MonsterVerse and Doctor Who lore. He's aware he looks like Harry Potter and Clark Kent.
Your Daily Blend of Entertainment News
Thank you for signing up to CinemaBlend. You will receive a verification email shortly.
There was a problem. Please refresh the page and try again.