New DVD Releases: When To Buy The Latest Movies In October 2016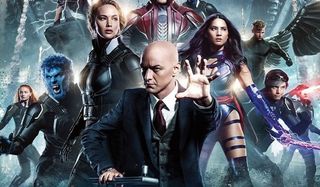 It's a weird time of the year for the movies. None of the big holiday blockbusters have come out in recent months and none of the big awards nominees have started being released, either. Despite this, there are some great home entertainment releases coming this month, from the surprise hit The Purge: Election Year to the latest in the X-Men franchise, Apocalypse. There's plenty of good stuff coming this month and you can check it all out below, complete with pictures, because pictures are super fun.
If you are looking for the September Blu-ray and DVD releases, head here.
X-Men Apocalypse Blu-ray Review
X-Men: Apocalypse marks the sixth film in the franchise's main canon, and completes the First Class trilogy. Set in the delightfully tacky 1980's, Apocalypse follows Charles Xavier (James McAvoy) and Mystique (Jennifer Lawrence) as they attempt to stop Apocalypse (Oscar Isaac) from destroying the world. Additionally, they attempt to bring a crestfallen and superpowered Magneto (Michael Fassbender) back to reality after he joins the forces of evil... again. The film also introduces young version of popular franchise favorites like Jean Grey (Sophie Turner) and Storm (Alexandra Shipp), who will likely appear in future installments. The film itself is worth a watch, but so are the X-tras (and yes, Twentieth Century Fox Home Entertainment calls them that.) Skip the "Wrap Party" segment, but be sure to check out the deleted scenes with optional audio commentary. Speaking of audio commentary, this is a great sort of movie for behind-the-scenes information. Order your own copy of X-Men: Apocalypse, here.
The Purge: Election Year Blu-ray Review
Successful horror franchises are usually spawned from premises that have long shelf lives, meaning there are plenty of different types of stories that can be told in the specific world of the horror franchise. The Purge: Election Year looks at the annual purge from a political perspective, introducing us a to a senator named Roan (Elizabeth Mitchell), who desperately wants to bring people back together, and her head of security Leo Barnes (Frank Grillo), who desperately wants to keep the senator safe. After they are betrayed in James DeMonaco's film, they are forced into the streets, where they are saved by a ragtag group of heroes, including Joe (Mykelti Williamson), Laney (Betty Gabriel) and Marcos (Joseph Julian Soria). The Purge is even more surreally violent than other movies in the franchises, although the shock value has worn off somewhat for the third film. Extras include deleted scenes that help to explain why Joe and Marcos left the rooftop and more. Universal Pictures Home Entertainment's set also comes with a behind-the-scenes look at the actor's and director's processes, which features footage of how that shot of the angry school girl meeting an armed car was accomplished. Check it out for more tidbits. You can order your own copy of The Purge: Election Year here.
Tuesday, October 4 Blu-ray and DVD Releases
X-Men: Apocalypse
The Purge: Election Year
Swiss Army Man
Banshee: The Complete Fourth Season
Constantine: The Complete Series
American Horror Story: Hotel
Into The Forest
Complete Unknown DVD
The Wailing
Kingsclaive
Vikings: Season 4
Penny Dreadful: The Final Season
X-Men First Class 4K
The Andy Griggith Show: Christmas Special DVD
Sherpa DVD
Satanic
The Prince: Movie Collection
The Last King
I Love Lucy: Superstar Special (Colorized)
Amazonia
Week of October 4 Early Digital Releases
Ghostbusters Blu-ray Review
Paul Feig's female-led blockbuster Ghostbusters received a lot of press leading into its release, and while this remake may not be a classic like the original, it's still a fun-- and funny--ride. While Kristen Wiig and Melissa McCarthy bring some acting chops to the new film as former best friends, Erin and Abby. it's Kate McKinnon who steals a lot the scenes here, keeping us in stitches with Jillian Hortzman's zany antics and Leslie Jones adds a little flair as streetwise subway worker Patty who encounters a ghost. Chris Hemsworth also has some goofy scenes, joining the team as a really dumb secretary named Kevin. The movie itself nods back to the original franchise in ways that mostly feel organic as the quartet of ladies tackle ghosts in subways, at rock concerts and all throughout the city.
The Sony Pictures Home Entertainment set comes with both the theatrical and extended editions, the latter of which adds an extra 15 minutes to the film. One additional scene even features Weeds actor Justin Kirk as Erin's sort-of boyfriend, which is pretty amusing. A proliferation of bonus features also come with the set, including not one but two gag reels. If you download the Ultraviolet copy, that's where the real fun is at. Presumably to push the Digital service, Ghostbusters comes with an additional hour of extended and alternate scenes---which makes sense, as the original cut of the film was reportedly 3.5 hours. Order your own copy here.
The Legend Of Tarzan Blu-ray Review
There have been a slew of animated and non-animated versions of Tarzan over the years, but The Legend of Tarzan takes a step in a different direction, kicking off with Tarzan (Alexander Skarsgard) already married to Jane (Margot Robbie) and living in London. Tarzan---now going by John---ends up getting involved in a trip to Africa after George Washington Williams (Samuel L. Jackson) presents evidence of tribes becoming enslaved. Jane tags along on the trip, and the two end up going on an adventure to save the day. The plot's not super innovative, but it is fun and romantic. I'm just saying, there are worst ways to spend a couple of hours than watching two extremely attractive individuals run around the jungle and take down the bad guys. Now you can even do it from the comfort of your home, with Warner Bros. Home Entertainment's Blu-ray set. Buyers will get a DVD and Digital copy with their purchase, as well as a few bonus features. The latter are nothing to write home about, but if you like Digital sets, you may enjoy "Creating the Virtual Jungle." You can check out your own copy here.
Tuesday, October 11 Blu-ray and DVD Releases
Ghostbusters
The Legend Of Tarzan
Broken Vows
Ice Age 5: Collision Course
The Da Vinci Code 4K
Hannibal: The Complete Series Collection
Feed The Beast: Season 1
Adventure Time: The Complete Sixth Season
Mike & Molly: The Sixth And Final Season
Gregory Peck Centennial Collection
Week of October 11 Early Digital Releases
Lights Out
Alice Through The Looking Glass Blu-ray Review
Alice Through the Looking Glass, the sequel to the wildly successful Alice in Wonderland, had a decent box office run, but didn't reach the great heights the original was able to bring in. Despite the lengthy time between the first and second movie in the franchise, Alice Through The Looking Glass' premise works, picking up some years into the future, when Alice (Mia Wasikowska) returns from the high seas to discover her former fiancée is attempting to take over her father's ship. Alice runs into Absolem (Alan Rickman) and finds a way back into Wonderland, where she meets an even stranger Mad Hatter (Johnny Depp) and decides to steal a time traveling device from Time (Sacha Baron Cohen) to help her old friend get his mojo back.
Director James Bobin faced the added challenge of having to change the story from Louis Carroll's original novel, as the first movie actually introduced characters from the second book. Regardless, it all worked out, as Alice Through the Looking Glass is a solid and enchanting-looking adventure story for the whole family. Walt Disney Home Entertainment's set comes with a few extras, along with a DVD and Digital copy. Probably the most unique bonus feature on the disc is "Alice Goes Through Time's Castle: A Scene Peeler," which features an introduction to certain scenes and then a side-by-side comparison of Ma Wasikowska filming a key scene on green screen on the left and full animation on the right. Don't worry, it's short. You can check out Alice Through The Looking Glass from the comfort of your own home by ordering it here.
Tuesday, October 18 Blu-ray and DVD Releases
Independence Day: Resurgence
Alice Through The Looking Glass
Bates Motel: Season 4
Café Society
The Night Of
Crouching Tiger, Hidden Dragon 4K
Downton Abbey: The Complete Collection
Bates Motel: Season 4
Ghost Rider Collection Blu-ray
Marx Bros. Silver Screen Collection
Crouching Tiger Hidden Drago 4K
Guilt: Season One DVD
The Marx Brothers: Silver Screen Collection
Feed The Beast: Season One
75th Anniversary of Pearl Harbor
Week of October 18 Early Digital Releases
Mr. Church (October 21)
Tuesday, October 25 Blu-ray and DVD Releases
Lights Out
Captain Fantastic
Beauty and the Beast: The Enchanted Christmas Special Edition
Mr. Church
Week of October 25 Early Digital Releases
Outlander: Season 2
Nine Lives
Your Daily Blend of Entertainment News
Reality TV fan with a pinch of Disney fairy dust thrown in. Theme park junkie. If you've created a rom-com I've probably watched it.