Why The Purge Needs Its Own TV Show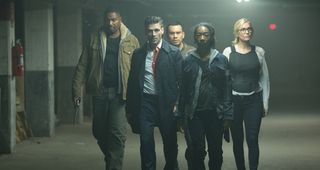 What happens to society when there's an annual event where all crime is legal for a 12-hour stretch of time? The Purge movies have explored that concept three times already, and given the opening weekend box office for the most recent installment, The Purge: Election Year, it's likely that we'll see more Purge movies in the future. While I certainly wouldn't argue against that, as these twisted films have proven to be a barely-guilty pleasure for me, I think a strong case could be made for why this franchise needs to branch out to the small screen, preferably sooner rather than later.
For those who haven't seen The Purge or its sequels, James DeMonaco's films are set in the not-so-distant future, where the "New Founding Fathers" of America have deemed all crime legal for one night every year. People are not only allowed to commit crimes, but they're strongly encouraged by the government and its supporters to purge their violent tendencies. Horror inevitably ensues during the twelve hours of crime-time, as people take advantage of the night to carry out their darkest desires without facing any legal consequences. In this reality, the nightmarish annual event has resulted in an overall drop in unemployment and crime. Each film follows a different set of characters, though Frank Grillo's Leo Barnes was introduced in The Purge: Anarchy and returned for a new hellish adventure in The Purge: Election Year. And The Purge's Edwin Hodge took on a sizable role in The Purge: Election Year as well.
It's not a bad thing that the Purge movies tell a different story with mostly new characters in each film, but the problem there is that there's very little time to build up a story around the characters before they're thrust into a night of violence and terror. The Purge's first film has its moments, but is arguably the weakest of the bunch, introducing the Purge event through the eyes of a wealthy family trying to survive the night in their semi-secure home. It introduces the concept well enough, but doesn't scratch much of the surface. The Purge: Anarchy did what the first film should have, and took the story to the streets, where a handful of characters had the unfortunate experience of being exposed to the public during Purge night. And the most recent movie, The Purge: Election Year, takes us through another Purge night, while also more directly addressing the political divide between those who believe in the Purge, and those who think it needs to be abolished. It holds up well, and is probably the best of the three films so far in terms of characters and pacing. But it's still not maximizing on the concept's potential.
While it has no trouble raking in box office dollars, three movies in, The Purge has yet to fully hit the mark. A 12-episode limited TV series could do just that, covering the length of a Purge night through the eyes of numerous characters who may or may not cross paths throughout the ordeal.
24 comes to mind when considering the structure of such a series, especially if there's a Jack Bauer (or Frank Grillo) type hero or anti-hero at the center. The Purge TV show doesn't necessarily need to be told in real time, but 24's structure (cut in half, because the Purge is only 12 hours, and 24 episodes is forever in TV drama time) could really lend itself well to a Purge-night drama. From there, divide the characters between some genuinely good people, some anti-hero types and one or two purge-hungry villains, all of whom are out on Purge night for whatever the reason. Not everyone survives, of course. And maybe one or two live on to appear at some point in Season 2, which would take the films' anthology approach and tell a whole new story, with a new location and mostly new characters. If they set the series at some point after the first Purge, but before the events of the films, there's no reason the show would have to disrupt or even affect the timeline of the movies.
What works so well about The Purge is that it explores some dark and truly disturbing scenarios in a world where violence is not only permitted during this stretch of time, but encouraged. From a writing perspective, there are so many dark and twisted scenarios that could be explored when introducing different kinds of characters into such a setting. People take action without fearing consequences, which means anyone can be a threat. Even the nicest person might choose to exercise their "right" to Purge. It comes down to who you really trust and whether or not you're prepared to defend yourself. With the right characters and Purge night as its setting, a Purge TV show could take this concept to the next level.
This poll is no longer available.
Your Daily Blend of Entertainment News
Assistant Managing Editor
Kelly joined CinemaBlend as a freelance TV news writer in 2006 and went on to serve as the site's TV Editor before moving over to other roles on the site. At present, she's an Assistant Managing Editor who spends much of her time brainstorming and editing feature content on the site.
Your Daily Blend of Entertainment News
Thank you for signing up to CinemaBlend. You will receive a verification email shortly.
There was a problem. Please refresh the page and try again.