New DVD Releases: When To Buy The Latest Movies In September 2016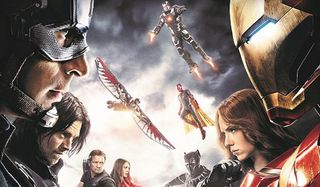 The new TV season is about to start, as evidenced by the lengthy number of titles that are on our Fall TV premiere schedule. The various networks often put out a slew of Digital, DVD and Blu-ray releases for big TV shows just before new episodes hit the air in late September. There's lots and lots of TV to choose from this month, if you are looking for a set or three to add to your collection.
September, of course, is also a big month for movie releases. Notably, Captain America: Civil War is hitting Blu-ray, DVD and Digital this month, with the Digital release coming a little early on September 2. There are plenty of interesting Digital releases heading into homes before the Blu-ray and DVD releases this month, and if you see any big titles that aren't mentioned, it's likely the release date already happened or is the same day as the Blu-ray release. As always, let us know if you have any questions in the comments
If you want to check out what hit homes in August of 2016, head here.
Now You See Me 2 Blu-ray Review
Now You See Me 2 is a sequel that finds the Four Horsemen in hiding, with plenty of people out for revenge against them thanks to their antics from the first film. Jon M. Chu's sequel has a little work to do at the beginning, both explaining a little more about Agent Dylan Rhodes' (Mark Ruffalo) backstory and explaining why Henley, who was played by Isla Fisher in the first film, did not return for the second (various reports have indicated her pregnancy came into play). This time around, we catch up with J. Daniel Atlas (Jesse Eisenberg), Merritt McKinney (Woody Harrelson) and Jack Wilder (Dave Franco) and meet Lula May (Lizzy Caplan). The twisted plot involves a technological genius played by Daniel Radcliffe who tasks the newly returned to work Horseman to steal a chip that can unlock devices. It's a fine enough premise, but despite the twists and turns, Now You See Me 2 is a entertaining movie to throw on at home for nearly any reason. However, Lionsgate Home Entertainment's set isn't something to write home about. The set does come with a Blu-ray, DVD and Digital copy (and a 4K combo pack is also available), giving you plenty of options to watch. While the Blu-ray has a couple of extra featurettes and both the Blu-ray and DVD have audio commentary, this isn't really a movie you want to purchase for the extras. On the bright side, Amazon has the new release available for a startlingly good price; check it out here.
September 6 Blu-ray and DVD Releases
The Iron Giant Signature Edition
Money Monster
The Darkness
All The Way
The Ones Below
CSI: Cyber: The Complete Second Season
Limitless: Season One
Supernatural: The Complete Eleventh Season
The Flash: The Complete Second Season
American Crime Story: The People v. O.J. Simpson
South Park: The Complete Nineteenth Season
Charlie's Angels -- The Complete Series
Love & Friendship
Dennis the Menace -- The Complete Series
Necessary Roughness -- The Complete Series
Coach -- Season 1
Coach -- Season 2
Coach -- Season 1 & 2 Combo
Night of the Living Deb
Honey 3
In Lawfully Yours
Equals
Genius
The Bodyguard: A Sammo Hung Film
Hard Target 2
Compadres
Centerstage: On Pointe
Week of September 6 Early Digital Releases
Being Charlie
Captain America: Civil War (Out September 2)
Teenage Mutant Ninja Turtles 2: Out of the Shadows
Neighbors 2: Sorority Rising
X-Men: Apocalypse (Out September 9)
Free State Of Jones
Captain America: Civil War Blu-ray Review
The latest installment in the Captain America films is a solidly satisfying film that engages on both action and storytelling levels, despite having a lot going on. In fact, beyond its main premise, the film is used to introduce Spider-man (Tom Holland) and even pits teams of superheroes against one another. Although it does a lot, the Russo Brothers movie manages to be amusing, to boot. The basic premise revolves around Marvel's biggest superheroes having problems getting on the same page after the U.N. decides to pass the Sokovia Accords, which would basically put checks and balances on the heroes, in effect also limiting their freedom. An interconnected storyline involving Bucky Barnes (Sebastian Stan) keeps the Captain America-based storytelling thread at the forefront, although much of the plot is focused on Steve Rogers (Chris Evans) not being able to get on the same page as Tony Stark (Robert Downey Jr.), to disastrous consequences.
Walt Disney Home Entertainment's release has been available on Digital for a short while now, so there's a chance you've already seen it at home, but if you'd like a hard copy, the Blu-ray set is a pared down---meaning no additional Digital copy--but economical set that does have a slew of bonus features. (More details here.) The two-part "Making of" featurette is refreshingly not boring, and four deleted scenes are included. The best of those fleshes out the funeral scene a little bit more. Audio commentary by Anthony & Joe Russo and Christopher Markus & Stephen McFeely is also included, if you feel like going super in-depth with the extras. You can order your own copy of Captain America: Civil War on Amazon.
Popstar: Never Stop Never Stopping Blu-ray Review
Andy Samberg has definitely proven to be an acquired taste, but if you like projects like Brooklyn Nine-Nine and Hot Rod you'll like Popstar: Never Stop Never Stopping, a movie that is funnier in individual moments than it is cohesive. Set in a mockumentary style, the Akiva Schaffer and Jorma Taccone-directed film follows the story of Conner4Real (Samberg), a former member of the band The Style Boyz who broke off on his own after things turned sour. Fame doesn't turn out as expected and Conner is forced to get a little introspective as he rubs elbows with a slew of celebrities. This means that celebrity cameos abound in this movie, from Mariah Carey and Jimmy Fallon and the roots to Usher and way more big names, Popstar offers a lot of celebrity sighting. Still, sometimes the parody of celebrity culture gets to be a bit much, especially when nods at TMZ are involved.
If you like the work from The Lonely Island crew, there are quite a few extras on the disc, including music videos for some of the blatantly ridiculous songs that appear in Popstar. A slew of deleted scenes are included---and when we say slew, we mean it, although there's literally one deleted scene that's just random concert footage. There are so many outtakes there's almost a movie within a movie in the extras. There are also some extra funny moments that play during the credits of the flick. You can order your own copy of the Universal Pictures Home Entertainment set here.
September 13 Blu-ray and DVD Releases
The Conjuring 2
The Big Bang Theory: The Complete Ninth Season (opens in new tab)
Popstar: Never Stop Never Stopping
Empire: The Complete Second Season DVD
Longmire: The Complete Fourth season
Chicago P.D.: Season 3 DVD
Hawaii Five-0: The Sixth Season DVD
Scorpion: Season Two DVD
Quantico: The Complete First Season DVD
Marauders
King Jack
Presenting Princess Shaw
Week of September 13 Early Digital Releases
The Shallows
Little House On The Prairie: The Last Farewell, Look Back To Yesterday And Bless All The Dear Children
Warcraft (opens in new tab)
Central Intelligence
Neighbors 2: Sorority Rising Blu-ray Review
Most of the time when popular movies produce a sequel, they somehow try to go bigger and harder with the premise. Neighbors 2: Sorority Rising doesn't fall into this trap. Instead, it just reworks the formula to tell the same story it does in the first movie, just with wackier and generally even more hardcore young ladies. Kudos to director Nicholas Stoller and the slew of writers for figuring out ways to bring Dave Franco and especially Zac Efron back. Chloe Grace Moretz is perfect as a kind-of punk-talking teenager who is anti-status quo. Her character, Shelby, bands together with a crew of girls (Kiersey Clemons, Beanie Feldstein) to create a sorority so they can throw parties, much to the chagrin of Mac (Seth Rogen) and Kelly (Rose Byrne), who live next door. Sure there are plot holes in the flick and a few jokes that don't land (like the recurring dildo joke), which really didn't happen in the original Neighbors, but Neighbors 2: Sorority Rising is still worth a watch.
There are 12 deleted scenes with the set, some of which are very funny. They also sort of flesh out the story more; both Selena Gomez and Dave Franco get extra screen time, and there's a segment featuring the girls in the sorority putting together a truly vicious butane-in-a-fire-extinguisher prank. Other extras on the disc explore Dave Franco's change in sexual identity and how "The Ultimate Tailgate" was put together. You can order your own copy of the reasonably priced Neighbors 2, here.
September 20 Blu-ray and DVD Releases
Teenage Mutant Ninja Turtles 2: Out of the Shadows
Neighbors 2: Sorority Rising
2 Broke Girls: The Complete Fifth Season DVD
Modern Family: The Complete Season 7 DVD
The Good Wife: The Final Season DVD
Veep: The Complete Fifth Season DVD
The Originals: The Complete Third Season
Blue Bloods: The Sixth Season
Gunsmoke: The 12th Season Volume I & Volume 2 DVDs
_Salem's Lo_t Blu-ray release
Cat's Eye Blu-ray release
Stephen King's It Blu-ray release
Free State of Jones
Twin Peaks: The Original Series, Fire Walk With Me, And Missing Pieces
Criminal Minds: Beyond Borders: The First Season
The Shallows Blu-ray Review
Sony Pictures Home Entertainment busted out a pretty impressive holographic cover for the release of The Shallows, the survival thriller featuring one very determined young woman surviving against one very large shark. I'm going to go ahead and lead that I love Blake Lively, and she's a good fit for The Shallows, carrying the movie through most of its big scenes. Like survival thriller 127 Hours, the movie largely rests on Lively's shoulders, and in this case the flick is better for it. While not the best thriller we've seen in recent years, it holds up pretty well during its 86-minute runtime. In addition, the Blu-ray set comes with a few extras, including deleted scenes. One featurette will probably make you a little jealous, as it basically delves into finding the perfect beach for the film. Or maybe I just need a vacation. If you'd like to give The Shallows a watch, you can order your own copy here.
Central Intelligence Blu-ray Review
You'd expect a team-up between Kevin Hart and Dwayne Johnson to be a pretty fun endeavor, and for the most part Central Intelligence hits the mark. The film follows Calvin Joyner (Hart) as a former prom king and high school athlete who is looking for a little more excitement in his life. He soon gets it when he meets with Bob Stone (Dwayne Johnson), who was formerly bullied in high school but has now turned himself into a mean killing machine. Rawson Marshall Thurber's fil gets pretty complicated when the two get involved with stopping a terrorist from selling important satellite codes. The plot is occasionally over-the-top and some of the gags in the film don't work, but when the movie is on, it showcases the best from two of the biggest stars of today. It's also overall just pretty entertaining. Warner Bros Home Entertainment's Blu-ray set comes with all of the usual suspects, including an Ultraviolet copy, a gag reel, alternate scenes, director commentary and, yes, a Line-O-Rama. You can check out your own copy here.
Warcraft Blu-ray Review
Warcraft begins with a group of Orcs led by the sorcerer Guldan (Daniel Wu). Their world is dying, and they're also being chased by a nameless evil, and so Durotan opens a portal into another world, allowing a small band to escape in order to find enough power on the other side to let the rest of the orcs through. If this is already confusing, you're not alone. On the other side they find the world of Azeroth, led by King Llane Wrynn (Dominic Cooper). The King sends his right-hand man Sir Anduin Lothar (Travis Fimmel) to contact the wizard Medivh (Ben Foster) in order to figure out what to do about the orcs who are tearing up the countryside. That's the basic plot of Duncan Jones' movie, although it gets more complicated and crowded as more characters are introduced. The movie didn't do well stateside, but it did well overseas, and Universal Pictures Home Entertainment has supplied a slew of bonus features with its Blu-ray set for the audiences that did really get into the film, which is based on a popular game. Some of these aren't the best, like a segment on "Madame Tussaud's" and another teaser that was just thrown in for extra content, but I did enjoy the extra "ILM: Behind the Magic of Warcraft," as the movie is strongest when it is dealing with visual effects, and it's always interesting to see that aspect of the industry at work. Other extras included deleted scenes, a gag reel, a motion comic and a lengthy Blu-ray exclusive featurette called "The World of Warcraft on Film."
You can order your own copy, complete with a DVD and Digital access, here. (opens in new tab)
September 27 Blu-ray and DVD Releases
The Shallows
Barbarians Rising
Central Intelligence (opens in new tab)
The Catch: The Complete First Season
Reign: The Complete Third Season
Mike and Dave Need Wedding Dates
The Neon Demon
Cell
Warcraft
Beyond Valkyrie: Dawn of the Fourth Reich DVD
Edge of Winter DVD
Week Of September 27 Early Digital Releases
The Night Of (September 26)
Independence Day: Resurgence
Your Daily Blend of Entertainment News
Reality TV fan with a pinch of Disney fairy dust thrown in. Theme park junkie. If you've created a rom-com I've probably watched it.
Your Daily Blend of Entertainment News
Thank you for signing up to CinemaBlend. You will receive a verification email shortly.
There was a problem. Please refresh the page and try again.