Is The It Movie Behind This Rash Of Creepy Clown Sightings? Here's What We Know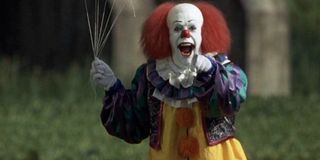 There's nothing scarier than a sinister clown. One of the main reasons why so many people are terrified of clowns is because of a certain Pennywise, the villain from Stephen King's It. In fact, with an It remake on the horizon, and production having recently wrapped on the film, there were rumors that its creative team were the ones behind a hoard of creepy clown sightings across the United States Of America that have been freaking people out. But now New Line have insisted that's far from the case. Cathy Nam, the spokesperson for New Line, emphatically declared to The Hollywood Reporter:
The studio was forced to make this bizarre statement after online conspiracy theorists started to speculate that New Line was behind the spooky clown sightings that have been sweeping the nation. For those of you that aren't aware of these incidents prepare to be a little spooked out by just how terrifying people can be. That's because Pennsylvania authorities recently were on the look out for several clowns that have been accused of shouting at children, while Kentucky police arrested a 20-year-old that had dressed in a full clown costume and proceeded to lurk around menacing, and a 64-year-old man was arrested in Tennessee after he admitted dressing as a clown and then threatening children. There have also been similar clown sightings in Kentucky, Arkansas, Mississippi, and South Carolina, too.
There were no reports on whether the clowns looked as terrifying as Tim Curry's Pennywise, though, from the 1990 TV adaptation of It. Let's hope they weren't. Because imagine how traumatized you would be if this clown got all up in your grill. I don't think I'd ever recover:
Because of these sightings, and producer Barbara Muschietti's confirmation on Instagram on September 22nd that production on her brother Andres Muschietti's It had come to an end, some cynical folks on the internet decided that New Line had decided to conduct the most sinister promotional campaign of all time. Which doesn't really make sense, because It's release date of September 8, 2017, is still over 11 months away.
It kicks off with the murder of George Denbrough in the fall of 1988, but most revolves around his older brother Bill and his pals attempts to find the killer a year later. But little do they know that George was killed by an evil entity known as Pennywise, who is an ageless, shapeshifting demon that has taken the shape of a clown (among other terrifying things). Bill Skarsgard has been cast as Pennywise, while Midnight Special's Jaeden Lieberher plays Bill and Stranger Things' Finn Wolfhard also stars.
Because of the popularity of Stephen King's 1986 horror novel and the 1990 TV miniseries that it's based on there's a lot of anticipation regarding It. And while they won't condone or support it publically, I'm guessing New Line Cinema are a little pleased that these incidents have got people already discussing the reboot. It doesn't make these stories of people being hounded by folks dressed as clowns any less freaky, though.
Your Daily Blend of Entertainment News