Dug From Pixar's Up Comes To Life In This Adorable New Video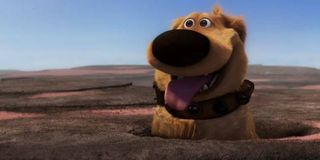 Disney and Pixar created a modern masterpiece with 2009's Up. Not only did the film tug at every single one of our heartstrings by telling an incredibly affecting story about age, love, and loss, but it also pioneered some incredibly iconic imagery for contemporary children's movies. However, arguably no element from the animated classic has become quite as legendary as Bob Peterson's lovable, talking dog, Dug. We've spent the last seven years wish a real pup like Dug could exist in the real world, and it now seems that our wishes have been answered. Check out the adorable video below to see for yourself.
We can pretty much guarantee that the above video will be the cutest thing that you see today. The clip follows a real life version of Dug from Up as he goes around interacting with people enjoying their day in a sunny park. Bob Peterson - who was the co-director on Up - reprises his role as the voice of the adorable pup, and provides excellent color commentary from the special collar strapped to Dug's neck. In true Dug fashion, the adorable canine goes around speaking his mind, telling people how good they smell, and pointing out every detail of the world at any and every possible opportunity.
Of course, the cutest moment of the entire video comes at the very end when Dug says that he is about to leave. As he departs, a little girl sitting on her father's lap leans forward and yells, "Come back doggy!" If that doesn't melt your heart, then I hate to break it to you: you're an emotionless robot.
This episode of Dug the Talking Dog In Real Life is the first episode in a new Disney series known as Disney IRL. The overarching premise of the series is that the entertainment giant will take iconic characters from its films, and bring them to life to interact with fans in the real world. We're not entirely certain as to what the next installment in the series will be, but we would absolutely love it if Disney brought Carl Fredericksen and Russell into the fold eventually as well.
Beyond the sheer cuteness of this video, it seems like an incredible reminder that Dug could very easily carry his own franchise. Although he was only introduced as a side character in Up, he won over audiences handily, he was great in the short film Dug's Special Mission, and we think it's time for Bob Peterson to return to the character in a new feature length film. It worked in Finding Dory, so we think that it can work here as well.
Even if you don't consider yourself a very passionate Disney fan, you cannot deny how adorable the video is. However, bringing Dug into the real world is just the beginning, and we cannot wait to see the next installment of Disney IRL. We will bring you more information related to the brand new series as more details become available to us.
Your Daily Blend of Entertainment News
Originally from Connecticut, Conner grew up in San Diego and graduated from Chapman University in 2014. He now lives in Los Angeles working in and around the entertainment industry and can mostly be found binging horror movies and chugging coffee.