Who Richard E. Grant May Be Playing In Logan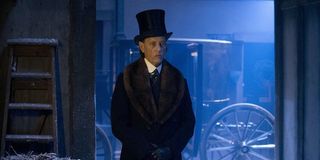 Earlier this year, Logan, then referred to informally as Wolverine 3, announced most of its main cast. However, as is the case nowadays with many blockbusters trying to keep a tight lid on its production, the third Wolverine spinoff didn't identify the majority of these characters. In Richard E. Grant's case, his character was simply described as a "villainous mad scientist." Lately, fans have been speculating that this figure could be Mister Sinister, but now new information has come out suggesting he won't be playing the insane geneticist, but someone who definitely has a history experimenting on mutants in the comics.
According to The Wrap, Richard E. Grant will play Dr. Zander Rice, the scientist in charge of the organization known as Transigen, which is reportedly taking your mutants and turning them into weapons. So it looks like Grant will indeed be serving as Logan's main antagonist, with his experiments being responsible for many mutants across the world suffering. The report also noted that Boyd Holbrook's character, Donald Pierce, will work for Zander as Transigen's head of security.
In the Marvel comics universe, Zander Rice's father worked on the original Weapon X project, but he was killed by Wolverine when the newly adamantium-bonded mutant was escaping. Zander inherited his father's research, and years later, he formed his own mutant research program to recreate Weapon X's work. The end result was them creating Wolverine's female clone, X-23. Zander subsequently tried to turn the girl into a weapon, but his inhumane treatment of her and plans to create more clones like her eventually led to Zander's scientific partner, Dr. Laura Kinney, to manipulate X-23 into killing him. X-23 is reportedly showing up in Logan (she's apparently the girl in the poster), and if Richard E. Grant is indeed playing Zander Rice, then it looks like we'll see her origin story unfold next year. That suggests a horrible fate may await Zander, which would be fitting karma for his malevolent acts.
Over the last week, much of the proverbial curtain has been pulled back in terms of what to expect from Wolverine's third solo outing, which also doubles as Hugh Jackman final time playing the clawed mutant. Taking place in 2024, Logan will follow the eponymous protagonist as his healing powers are fading, meaning he has to resort to booze to dull his consistent pain. Professor X will also appear, although in his advanced age, he's become unstable. If all that wasn't bad enough, the mutant birthrate has decreased, and as mentioned earlier, that paves the way for Transigen to swoop in to take these younger mutants and turn them into killing machines. If this casting information is correct, Richard E. Grant as Zander Rice will be leading the charge, and it will be Wolverine's responsibility to put this operation to an end and rescue his "daughter" from the scientist's clutches.
Logan slashes its way into theaters on March 3, 2017.
Your Daily Blend of Entertainment News
Connoisseur of Marvel, DC, Star Wars, John Wick, MonsterVerse and Doctor Who lore. He's aware he looks like Harry Potter and Clark Kent.
Your Daily Blend of Entertainment News
Thank you for signing up to CinemaBlend. You will receive a verification email shortly.
There was a problem. Please refresh the page and try again.