How X-23 May Be Adapted For Wolverine 3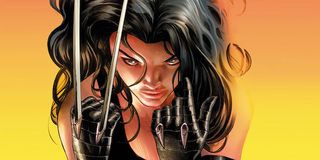 Wolverine 3 (or Weapon X, as a new rumor suggests) has been slowly building its cast over the last couple months, but so far the only characters who have been officially identified for the move are Wolverine himself (obviously) and Professor Charles Xavier. However, there have been a few players rumored to show up,including X-23, Wolverine's female clone in the comics. While the circumstances of how she could be introduced haven't been made clear, we may now have an idea of what to expect from her personality-wise.
The folks over at The Hashtag Show posted a lengthy character description today of Wolverine 3's version of X-23. She is supposedly a 12-15 year old "wounded badass" girl who has spent her whole life raised in captivity alone in a compound during a time of battle. She supposedly has an "authentic intensity," and is able to communicate volumes simply through her expressions and body language. Upon being released into the outside world, each new sight and experience for her is a first, and while some are surely "wondrous," there are some things that we take for granted that would freak her out or bore her. On top of that, she has almost no social etiquette, meaning that she has to study and imitate people around her to figure out what's right. Fortunately, she's also extremely intelligent.
As for the actress who will play X-23, they're looking for a "real girl," as in "not made up" and with "genuine edge." The role requires someone extremely physical, and martial arts or gymnastics training is a welcome bonus. Above all else, they don't want the person who will portray X-23 to play her as "cute."
This description is pretty much par for the course as far as X-23 goes. Wolverine has proven himself to be a rough character many times over the years, and considering that she's been locked away her whole life, we'd presume that she's even more socially awkward and animalistic than him. A previous casting report alluded that that actresses were being looked for between 6-13 and over 21, i.e. seen X-23 at different stages of her life. However, if this new casting description is to be believed, she'll escape captivity as a teenager, either by herself or with help.
With this many rumors circulating, it seems more and more likely that the X-Men movie universe wants to incorporate X-23. Director Bryan Singer even mentioned how he suggested that she appear in the X-Force movie. However, her descriptions still don't shed light on how she'll be involved in Wolverine 3. X-Men: Apocalypse's post-credits scene showed an Essex Corp employee retrieving a vial of Wolverine's blood from Weapon X, so perhaps in the future, the corporation (specifically its malevolent head) will finally succeed in creating a clone from his genetic material. Considering that this is also Hugh Jackman's last time playing Wolverine, we should also brace for the possibility that X-23 is being set up as his successor for future movies.
You can read the full Wolverine 3 casting description for yourself in the video below:
Wolverine 3 slashes its way into theaters on March 3, 2017.
Connoisseur of Marvel, DC, Star Wars, John Wick, MonsterVerse and Doctor Who lore. He's aware he looks like Harry Potter and Clark Kent.