The Suicide Squad Viral Site Just Unlocked Its First Page, Here's What Was Revealed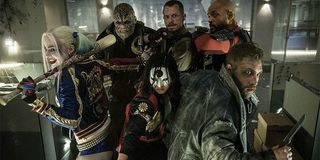 Viral marketing campaigns have become incredibly useful tools for major blockbusters. They offer a sense of immersion and discovery that other advertising methods simply cannot provide. Warner Bros. recently experienced a stroke of genius by teasing major DCEU developments on the A.R.G.U.S. website, and it now seems that the first major file on the database has officially been declassified. Get ready, Suicide Squad fans, because you're about to learn quite a bit about Jai Courtney's Captain Boomerang. Check out the tweet below.
As you can see, the official A.R.G.U.S. website has officially declassified the file on Digger Harkness a.k.a Captain Boomerang. The tweet states that our A.R.G.U.S. access levels have been increased, and the promotion means that we can finally delve into the backstory and personal details of the boomerang-wielding, pink unicorn-obsessed villain. Spoiler alert: he's not a very nice individual.
The file on the website treats the Suicide Squad character like a real criminal, and fully immerses DC fans as real-life A.R.G.U.S. agents trying to get to the bottom of a major case. It lays out a perfect characterization for the wisecracking bad guy, telling us everything we need to know -- from his "treacherous" personality, to his rough upbringing as the illegitimate son of a toy manufacturer. A.R.G.U.S.' database even makes reference to a mysterious metahuman that captured Harkness (a moment we saw during Suicide Squad) which serves as an allusion to the eventual debut of Ezra Miller's Flash when Justice League hits theaters in fall of next year.
Another part of Boomerang's file that really stands out is the observation that he's an incredibly "deceptive" and "exploitative" bad guy. Slipknot probably should've read that part of the database before trying to escape. He probably would still have his head if he did.
Warner Bros. very clearly has a wealth of information left to reveal to the audience. There are eight profiles left to unlock in the Task Force X file alone, and that doesn't even address the other mysterious files on the site. In addition to the Task Force X section of the database, there are eight other files -- seven of which are labeled "restricted," and one of which is labeled "metahumans." Ultimately, this marketing tactic is really a perfect way to indulge the fantasies of longtime fans, while spoon-feeding vital information to members of the mainstream audience that might not have a very firm grasp on the exact nature of these characters.
CinemaBlend will bring you all of the latest and greatest updates related to the ARGUS website as new information becomes declassified. With a ton of awesome DCEU movies set to hit theaters within the next few years, we have a feeling that this database will become our go-to source for awesome information. The DCEU will continue to expand when Wonder Woman hits theaters on June 2, 2017.
Your Daily Blend of Entertainment News
Originally from Connecticut, Conner grew up in San Diego and graduated from Chapman University in 2014. He now lives in Los Angeles working in and around the entertainment industry and can mostly be found binging horror movies and chugging coffee.