The Reason Andrew Garfield Is Happy The Amazing Spider-Man 3 Didn't Happen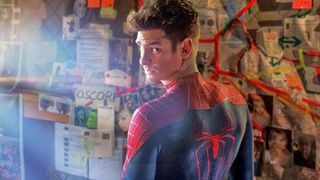 When Andrew Garfield was originally cast as Peter Parker in Sony's The Amazing Spider-Man, he made it very clear just how important the character was to him. Because of this you probably assumed that the decision not to make The Amazing Spider-Man 3 and halt the franchise at just two films left Garfield devastated. However, the English actor has insisted that couldn't be further from the truth, because it freed up the time to allow him to work with two supremely talented directors in the shape of Mel Gibson and Martin Scorsese.
Andrew Garfield made this revelation to Fandango (opens in new tab), confessing that if he'd still been under contract with Sony to work on The Amazing Spider-Man 3 he wouldn't have had the chance to star in both Hacksaw Ridge and Silence from Gibson and Scorsese, respectively. Meanwhile, he only had kind words for the man who has replaced him as Spider-Man, too. Garfield remarked:
With this admission, it seems that everything worked out rather well with the decision from Sony to cancel The Amazing Spider-Man franchise after just two films, and then loan out Spider-Man to the Marvel Cinematic Universe. The character has been rejuvenated, moviegoers are delighted to see Peter Parker interacting with The Avengers, director Marc Webb's Gifted sounds particularly sweet and promising, and Andrew Garfield got the chance to work with two directors of fine fettle.
There's every chance that Andrew Garfield will find himself in contention for some acting gongs over the next few months because of these performances, too. Let's start with Hacksaw Ridge, which tells the story of and sees Garfield portray Desmond T. Doss, the conscientious objector during World War II who enlisted in the army, refused to bear arms, and was awarded the Medal Of Honor. It has already been roundly praised, and just one look at its trailer proves why:
Then there's Silence, which, as it's from Martin Scorsese, has instantly drawn the attention of movie fans everywhere. Set in the 17th century, Andrew Garfield stars alongside Adam Driver as two Portuguese Jesuit priests that travel to Japan to find their mentor (Liam Neeson), and along the way encounter violence and persecution because of their Christianity. Sadly there's no teaser trailer for Silence yet, but in the meantime, take a look at this picture to appreciate its majesty.
_Silence ___will be with us on December 23, while _Hacksaw Ridge_ will be released at the start of next month on November 4.
Your Daily Blend of Entertainment News