Of Course Tom Hanks Remembers Every Word To His Rap From Big, Watch The Proof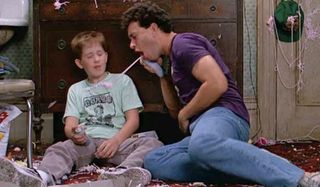 You never need a reason to love Tom Hanks unconditionally. But just in case you're feeling a little grumpy today, here's a video of Tom Hanks remembering every single word to the famous rap from Big nearly 30 years after its release. It will instantly make you fall in love with him all over again. It starts at 3 minutes and 28 seconds. Enjoy:
Can't we just make Tom Hanks the King of the World so we can all live happily ever after? What made Hanks' rendition of the Shimmy Shimmy Cocoa Pop rap so impressive was that he wasn't even prepared to launch into it again. But even so, he didn't need any help or cues to make the individual that requested the duet's millennium by singing it alongside him. Not even Ron Howard dancing behind the duo like a fool could take the shine off the clip.
We even got a little movie trivia from Tom Hanks after the performance, too. Hanks, who received an Oscar nomination for Best Actor In A Leading Role for his performance as Josh Baskin in Big, admitted that he used the Shimmy Shimmy Cocoa Pop rap as a way of Josh and Billy Kopecki (Jared Rushton) reconnecting after learning it from his son, who'd been taught it at summer camp that year.
You can relive the famous scene from Big, which is probably only outdone by Hanks and Robert Loggia's Mr. MacMillan dancing on the piano at FAO Schwartz, by watching it again below. It will warm even the coldest of hearts.
Tom Hanks is always willing to perform Shimmy Shimmy Cocoa Pop whenever the opportunity arises. In fact, YouTube is littered with Hanks performing it alongside James Corden and with British comedian Jonathan Ross, too. Of course, none of them really come close to the original, but just seeing Hanks revel in dropping the rap at the drop of a hat is downright delightful.
Tom Hanks is currently in full-on promotional mode as he looks to tell the world that Inferno, his latest effort as Robert Langdon in The Da Vinci Code series, is due out in cinemas imminently. In fact, Tom Hanks spent Saturday night killing it on Saturday Night Live, while he'll be on The Late Show With Stephen Colbert tonight, too. You'll get to see if all the publicity and promotional work is worth it when Inferno is released this coming Friday.
Your Daily Blend of Entertainment News