Unbreakable Ending, And What Should Have Happened Next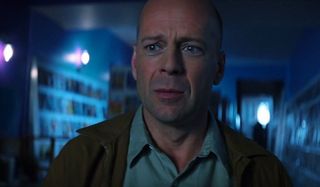 M. Night Shyamalan's upcoming film Split has preview audiences comparing it to his glory days of The Sixth Sense, Signs and Unbreakable. A kidnapping thriller, Split looks like a demented detour into the fractured psyche of a man with multiple personalities, and of course, there's a twist at the end... like Shyamalan always used to do.
But the twist surrounding Shyamalan's Unbreakable is that it expertly set up a sequel, which never saw the light of day. What happened? Why did we never get an Unbreakable 2? And what would have happened in that second movie (and beyond)?
The good news is that everyone involved in Unbreakable has been open and honest about their desire to make a sequel, sharing great ideas for the possible direction of the ongoing battle between David (Bruce Willis) and Mister Glass (Samuel L. Jackson). For this endings conversation, I want to talk about the conclusion of Unbreakable, the set up for Unbreakable 2, and what the cast wants to do in this particular universe. Let's start, as always, at the end. Naturally, we will get into serious spoilers for Unbreakable in this article.
What Happens At The End Of Unbreakable
M. Night Shyamalan spends the bulk of Unbreakable questioning whether security guard David Dunn (Bruce Willis) has super-human powers. Following a series of tests, Dunn finally accepts the hard truth that he may, in fact, be invulnerable, and tests his powers out by rescuing a family that has been held hostage in their home by a lunatic.
In the closing moments of the film, Dunn confronts a man who has been pushing him to accept the truth about his powers: Elijah Price (Samuel L. Jackson), a comic book aficionado who has been consulting -- OK, hounding David -- for the duration of the movie. The big twist that Shyamalan drops is that Elijah has been the cause of multiple tragedies, mainly because he has been looking for powerful people like David... and like himself. Elijah, we learn, has a condition that makes his body vulnerable. His life's mission has been to find his polar opposite, which he believes he has unearthed in David. Unbreakable has now established a traditional hero (Willis) and a worthy villain (Jackson), meaning a sequel could continue to pit these forces against one another.
But nothing happened. Unbreakable wasn't as big of a hit as The Sixth Sense, and Shyamalan moved away from a sequel to focus on Signs, The Village and The Lady in the Water. But there have been ideas for Unbreakable 2. Read on to see what the cast has been saying.
What Bruce Willis And Sam Jackson Want In Unbreakable 2
Because Unbreakable came out way back in 2000, the cast and their director have had time to address the concept of Unbreakable 2 in various interviews. And from the get go, they've always been supportive of it. Willis, in particular, doesn't shy away from sequels, having starred in five Die Hard movies and two Red films, just as an example. When speaking to ScreenRant about Unbreakable 2, Willis confirmed:
That's the first time that we ever hear from someone officially associated with Unbreakable that there has been talk of a trilogy. Which makes sense. M. Night Shyamalan put a lot of thought into the creation of this small corner of the universe, where a quiet and painfully subdued suburban husband and father rejects the crazy notion that he could be a superhero. Those types of people belong on the pages of his kid's comic books, not walking around in real life, assisting real people. By the end of Unbreakable -- which has an abrupt ending, to be honest -- David is basically just starting to come to grip with the fact that he has super powers... and an antagonist. Shyamalan could explore this man's journey for at least two more films.
Jackson agrees. In a fascinating oral history about Unbreakable with EW, the man who plays Mister Glass reveals:
Sam confirms the trilogy, but also introduces a new wrinkle. He reiterates -- as was stated in the title cards -- that Elijah has been sent away to an institute for the criminally insane. This lends itself to a "Joker in Arkham" set up, where possibly Dunn has to confront Elijah to get information to help him defeat a new threat? Because Elijah's the expert in all of this comic book lore, and David's just now starting to believe in the mythology. Is that where Shyamalan would go with Unbreakable 2? Read on to see his comments.
What M. Night Shyamalan Wants In Unbreakable 2
EW's oral history on Unbreakable is a terrific read. Revisit it here. In the various interviews, M. Night Shyamalan reveals why he hasn't rushed right back to make Unbreakable 2, the way you might with a traditional superhero story. It's because, in the grand scheme, he doesn't view it as a comic book story at all... and that reality would shape his approach to a sequel. Shyamalan tells EW:
In a later interview, the director elaborated:
But what if it wasn't grounded? What if it was bizarrely over the top. Because Patton Oswalt has a fantastic pitch for an Unbreakable series, and if you haven't heard it yet, you're going to want to read on.
What Patton Oswalt Wants In Unbreakable 2
Patton Oswalt is a pop-culture guru, a god amongst nerds. Remember when he played a disgruntled Pawnee citizen who filibustered on Parks and Rec about a magical marriage between Star Wars and Marvel? It was glorious.
Well, Oswalt did something similar for Screen Junkies a few years back where he mapped out the threads for an extensive Unbreakable trilogy -- which would include chapters such as Unbreakables (opening the door to other powerful characters that could for an Unbreakable Justice League) and Broken (where Jackson's Elijah breaks out and goes after David once and for all).
It's an amazing breakdown of the possibilities of this franchise, and we think Oswalt is seriously on to something. Are you listening, M. Night?
So, those are the ideas in play for Unbreakable 2. Do you think we will ever see Bruce Willis and Samuel L. Jackson as David Dunn and Elijah Price? Do you want to see more stories in this universe? Or was Unbreakable a one-hit wonder, and Shyamalan is better off leaving it alone? Relive the fantastic ending on the last page, and weigh in with your theories below.
Your Daily Blend of Entertainment News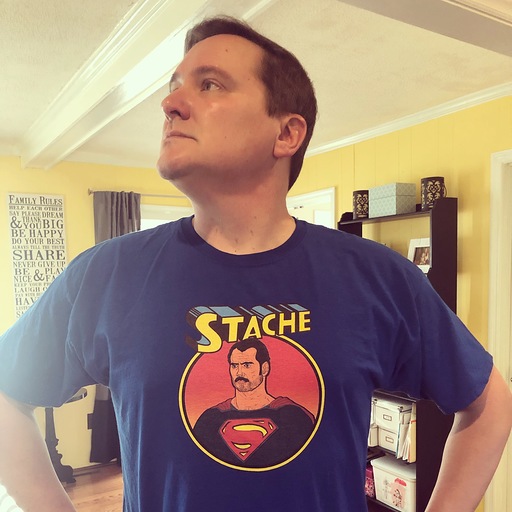 Sean O'Connell is a journalist and CinemaBlend's Managing Editor. Sean created ReelBlend, which he proudly cohosts with Jake Hamilton and Kevin McCarthy. And he's the author of RELEASE THE SNYDER CUT, the Spider-Man history book WITH GREAT POWER, and an upcoming book about Bruce Willis.