Watch The Rock Hilariously Prank Kevin Hart On The Jumanji Set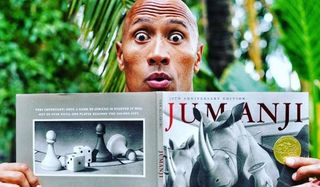 While working on Central Intelligence together, The Rock and Kevin Hart fast became close buddies. So much so that the pair soon decided to follow up their antics on the comedy with yet another film together, a sequel to the Robin Williams classic Jumanji. While shooting the action adventure out in Hawaii, the duo have been getting up to all kinds of shenanigans, most of which involves Dwayne Johnson poking fun at his diminutive co-star. So Johnson was never going to miss the chance to take advantage of Kevin Hart's hatred of spiders on the set of Jumanji. Thankfully for us, someone was around to capture the mischief, which The Rock has subsequently uploaded to Instagram for our pleasure.
What a pair of lovable scamps. Dwayne Johnson has been doing a superb job of keeping the world up to date with production on Jumanji, which is currently taking place in Hawaii, and from all accounts seems to be going rather swimmingly.
Because of the huge popularity of the original Jumanji, which is now held in even higher regard following the passing of Robin Williams back in August 2014, there is an awful lot of pressure on the 2017 version to at least match it. To do just that, Sony has assembled a pretty impressive line-up of actors, with Dwayne Johnson and Kevin Hart being joined by Jack Black, Karen Gillan, and Nick Jonas.
Rather than being terrorized by a board game,Jumanji_sees four teens in detention being sucked into a video game this time around, where they take on new "avatar" forms. Production began on Jumanji in September, and is expected to continue for a few more weeks yet, so keep posted to Dwayne Johnson's social media accounts for further updates.
Of course, this isn't the first time that we've seen Dwayne Johnson and Kevin Hart sharing their camaraderie and patter with the world. In fact, one of the funniest clips of duo together came during the promotion for Central Intelligence when they were asked to do impressions of each other for The LAD Bible, which soon went viral.
It says a lot about the quality of Central Intelligence that the above was funnier than anything in the film itself. We'll see if The Rock and Kevin Hart can do better when Jumanji is finally released on July 28, 2017.
Your Daily Blend of Entertainment News