J.K. Rowling Teases A Reason Why Fantastic Beasts Needs To Be So Many Movies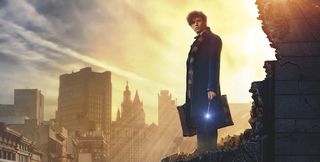 At yesterday's IMAX Fantastic Beasts and Where To Find Them fan event, J.K. Rowling dropped in during the final moments to casually share the news that this cinematic story is now set to be told over the span of five movies. For those keeping count, that would put this budding sub-franchise just three films short of the Harry Potter film series.
But the Harry Potter movies were based on a series of seven books. How can Fantastic Beasts' story possibly take five films to tell? It's barely based on one book to begin with, let alone five. J.K. Rowling responded to those who have their doubts about why this story needs so many films to tell, and her Tweet is vague but very intriguing...
The story we're really telling. Emphasis on the "really." J.K. Rowling's response strongly suggests that this story will be about more than some fantastic beasts (and where to find them).
What story is that?
She doesn't answer, but we already have our theories. Or one big theory anyway.
As promotions for Fantastic Beasts have ramped up in anticipation of the November arrival in theaters, we've started to see an increased emphasis on some other things going on in this film. The general premise of the movie centers around Eddie Redmayne's Newt Scamander, who's doing research on magical beasts and beings around the world for the textbook he'll eventually go on to write. At some point, his beasts escape his case, causing mayhem around the city. Collecting them seems to be the big challenge, however that may prove to be a bit of a McGuffin, when we take into account the bigger picture for the story that's really being told.
The recent trailers for Fantastic Beasts also tease rising tension in New York among No-Majes who are professing the existence of wizards. We know that the U.S. Ministry of Magic (MACUSA) is dedicated to maintaining magical secrecy, (even more vigilantly than in the U.K., it seems.) We're also seeing headlines (and hearing mentions) that Gellert Grindelwald is behind a series of attacks in Europe. We know from the Harry Potter books that of Grindelwald's biggest objectives was to get rid of the International Statute of Wizarding Secrecy, so that witches and wizards could live and practice magic out in the open. If all of these factors are connected, it may be a strong indication that the first Fantastic Beasts movie is going to lay the foundation for that story to unfold even further.
Does this mean we'll see Dumbledore vs. Grindelwald?
I'm honestly trying not to get too excited that we may be headed toward that truly epic showdown. Grindelwald's name is dropped as being the dark wizard to predate Voldemort. And we all know Dumbledore's power and abilities, not to mention that he and Grindelwald were once friends, before they were foes. So if they end up in the middle of all this, or even a bit adjacent to it, that would be something fairly massive to anticipate from these movies. Again, I almost don't want to get my hopes up, but at the same time, it seems like all signs are starting to point in that direction.
Assuming Grindelwald's attempted revolution is the story that's really going to be told, how exactly does Fantastic Beasts connect with it? If we're riding with that theory, for now, my guess would be that we might see Grindelwald's rise and eventual fall told through Newt Scamander's eyes (and memories.) The new featurette that released during the IMAX event included a couple soundbites of Michael Gambon's Dumbledore, one of which is:
Granted, it's entirely possible this was just the trailer's way of tying in a few recognizable Harry Potter flashbacks with Fantastic Beasts footage, to drive home the idea that this story is set in the same world. After all, we do also hear Hagrid telling Harry that he's a wizard during that same sequence. Still, the mention of memories gives the footage a very strong flashback vibe. Or a pensieve vibe, perhaps.
Given that Fantastic Beasts is going to introduce a whole new set of characters to us, I imagine the plan for the five-movie franchise is to keep most (if not all) of them around for the bigger story, in which case, if this story is building up toward Grindelwald's rise, I'd be curious to know how these characters tie in. We already have a pretty big theory about Colin Farrell's Graves, and I'm starting to think Ezra Miller's character Credence may end up tied in with that.
Time will tell. In the meantime, these new hints and revelations give us even more reason to look forward to Fantastic Beasts and Where To Find Them when it hits theaters this November.
Your Daily Blend of Entertainment News
0
Assistant Managing Editor
Kelly joined CinemaBlend as a freelance TV news writer in 2006 and went on to serve as the site's TV Editor before moving over to other roles on the site. At present, she's an Assistant Managing Editor who spends much of her time brainstorming and editing feature content on the site.
Your Daily Blend of Entertainment News
Thank you for signing up to CinemaBlend. You will receive a verification email shortly.
There was a problem. Please refresh the page and try again.