King Kong Looks Savage And Fast In First Look From Kong: Skull Island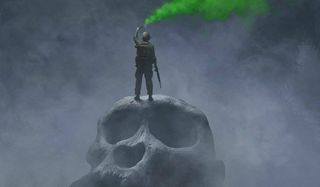 Ever since the first trailer for Kong: Skull Island was released, people have been rather excited for the blockbuster. But while the footage gave us a great look at the scope of the action and adventure and Jordan Vogt-Roberts' visceral vision for the film, as well as reminded us just how handsome Tom Hiddleston is, we still didn't get a good look at the titular beast. Well, now we have just that, because here is our very first clear glimpse of King Kong, and he looks rather incredible.
Clearly the above image from EW comes shortly after one or all of Tom Hiddleston, Brie Larson, Samuel L. Jackson, John Goodman, Jason Mitchell, Toby Kebbell, Corey Hawkins or Jing Tian's characters have done something to annoy the giant gorilla. Or maybe he's just trying to give them a formal greeting to Skull Island. Either way, we can't wait to see more of the beast in Kong: Skull Island.
Set in the 1970s, Kong: Skull Island revolves around a team of explorers that venture onto an uncharted island located deep in the Pacific Ocean. While it's undeniably exotic and beautiful, they soon learn that the island is full of huge, mythical beasts that aren't too happy that humans are among them. The biggest and most dangerous creature of the bunch is Kong.
Those of you that are wondering quite how big and daunting Kong actually is in Skull Island and don't think that the above side-on image of the beast does him justice can get a more precise idea by checking out the screen-grab from the trailer of his hand-print below. Because that shows us exactly how humungous Kong will be in Skull Island.
Wowzers! The first trailer for Kong: Skull Island did an absolutely sterling job of getting moviegoers hyped for the blockbuster, while at the same time suggesting that director Jordan Vogt-Roberts has a pretty impressive handle on things, especially since this is just his second film as a feature film director following the 2013 indie The Kings Of Summer. You can fawn over Skull Island's majesty again by clicking below.
Superb! We'll finally get to see if Kong: Skull Island can live up to this promise when it's released on March 10, 2017.
Your Daily Blend of Entertainment News