The Deal Marvel Struck With Fox That Helped Deadpool And Guardians Of The Galaxy Vol. 2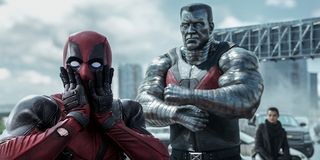 20th Century Fox and Marvel Studios are both in the business of adapting Marvel characters for the big screen, but neither side is known for working with the other. The former studio has long held the film rights to the X-Men and Fantastic Four properties, and since the latter studio has more than enough characters to fill out their cinematic universe, there hasn't been much need for cooperation between the two sides. However, it's now been revealed that Fox and Marvel struck a deal a while back to help each other out with Deadpool and Guardians of the Galaxy Vol. 2, which specifically involving the use of Negasonic Teenage Warhead and Ego the Living Planet.
During a special Deadpool screening this past weekend at Fox Studios (via The Playlist), writers Rhett Reese and Paul Wernick noted how for the Merc with the Mouth's solo movie, they wanted to change everything about Negasonic Teenage Warhead besides her name, which included changing her abilities. In order to do that, they had to receive permission from Marvel Studios, and the company was willing to let this happen on one condition. In exchange for the altered Negasonic Teenage Warhead, Marvel would be allowed to use Ego the Living Planet in Guardians of the Galaxy Vol. 2. That was deemed acceptable, and both studios left the bargaining table getting what they wanted.
For those who aren't familiar with Negasonic Teenage Warhead outside of Brianna Hildebrand's portrayal in the Deadpool movie, her comic book iteration was gifted with telepathic and precognitive powers. In contrast, the movie version was able to emit a "telekinetic detonation" around herself, making the Warhead part of her name more appropriate. One would think that Warhead simply being an X-Men character would mean Fox could adapt her in any way they wanted, but evidently the changes Reese and Wernick wanted to implement were big enough that they were forced to okay them with Marvel.
As for Ego the Living Planet, having to strike a deal regarding him is also unusual. Although Ego has battled the Fantastic Four and X-Men in the comics, he debuted in Thor #132, so wouldn't that have put him firmly in Marvel Studios' library of available characters? Evidently not. It's possible that Ego's numerous conflicts with Galactus in the comics meant that he was close enough to being a "Fantastic Four character." Regardless, thanks to this deal, Guardians of the Galaxy Vol. 2 will use Ego (played by Kurt Russell) as Peter Quill's father and one of the biggest cosmic characters introduced to the MCU yet. Personally, I think Marvel scored the better half of the deal, but opinions will differ.
While fans have been able to enjoy Deadpool since this past February, Fox is working to fix Deadpool 2's behind-the-scenes issues and move the sequel back on track for a 2018 release. Guardians of the Galaxy Vol. 2 will be released in theaters on May 5, 2017.
Your Daily Blend of Entertainment News
Connoisseur of Marvel, DC, Star Wars, John Wick, MonsterVerse and Doctor Who lore. He's aware he looks like Harry Potter and Clark Kent.